Greetings and Happy Holidays from Michael Monteferrante, President and CEO of Envision
By Michael Monteferrante • Dec 22, 2022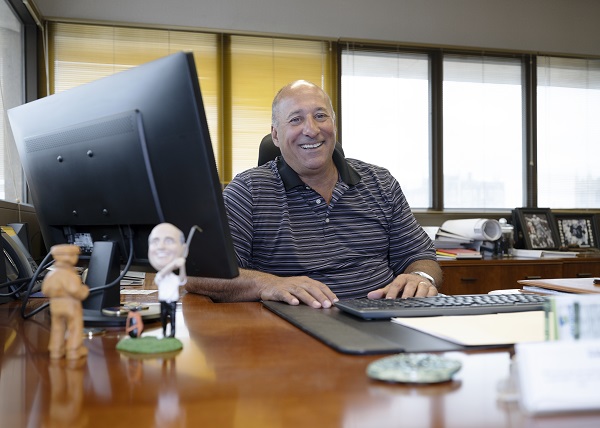 Blog Content
Dear Friends,

Greetings and Happy Holidays to you! The holidays are a great time to pause and reflect with gratitude. So, I am taking a moment to look back on 2022. The year was challenging in many ways, but also full of opportunities. Below is a short list of a few of our proudest accomplishments this year – accomplishments that are largely the result of partners like you.

We announced the purchase of a 210,000-square-foot facility in Farmers Branch, TX that will become the home of Envision Dallas late next year. We will be able to create more jobs for people who are blind or visually impaired and serve even more people in the North Texas region.
In January, we opened the Envision Arts Gallery and Community Engagement Center, a fully accessible gallery featuring artwork created for and by people who are blind or visually impaired and/or have other disabilities. This has been an amazing way to engage with our community.
Envision Conference returned to an in-person event hosting 122 people from across US and Canada.
Dr. Jing Xu, Envision Research Institute Research Associate, published a documented successful case study of a driver who is low vision using car automation features.
June was a big month for us as we received our largest single donation in Envision history. The LC Industries Foundation generously donated $6 million to the Envision Dallas capital campaign for future expansion plans.
We were grateful to receive an ARPA grant from the City of Wichita which has allowed us to offer digital accessibility services to businesses in Wichita at a greatly discounted rate. Website accessibility is part of our overall strategy to further inclusion for all people with disabilities.
Over the summer, we hosted the Level Up Conference with 30 students from across the nation and were happy to be back in person for Heather's Camp with 40 campers from around the US.
Our new strategic initiatives, which were launched in September, led to the Envision Vision Rehabilitation Center expanding its services throughout Kansas from an 80-mile radius to a 150-mile radius. These efforts will allow the team to reach more people who need critical low-vision services in communities across the state.
In October, Envision Dallas secured its largest-ever manufacturing contract with DLA which will create 50 new jobs.
Our Evening with Envision Gala and Envision Golf Tournaments were the most successful events to date. We are grateful to many of you who volunteered for these events that help us connect without important business partners and vendors.
Our first Envision Xpress Base Supply Center in Lemoore, CA celebrated 25 years of success and service to the people of the Lemoore Naval Air Station in October.
Students began classes at WSU Tech's National Institute for Culinary and Hospitality Education (NICHE) program. Two Envision employees were accepted into the program, and in mid-2023, we look forward to seeing the opening of the Envision Innovation Kitchen and Bistro as a part of our partnership with WSU Tech.
At our Water Street manufacturing facility in Wichita, we have installed a fourth piece of equipment that is more accessible to people who are blind or visually impaired. This allows them to operate the equipment and actively participate in the manufacturing process.
There are so many wonderful stories to share, and this is only a brief summary. We humbly ask that you continue to support us with your generous donations that sustain our mission of serving people who are blind or visually impaired. From all of us at Envision, have a safe and wonderful holiday!

With gratitude,

Michael Monteferrante, President and CEO