The Bicknell Envision Vision Rehabilitation Center in Wichita provides comprehensive, multidisciplinary vision rehabilitation by combining adaptive technology, training, and more to maximize your visual function.
Our specialists create vision rehabilitation programs that are tailored to your unique challenges and goals. Wherever you are on the low-vision spectrum, we have the resources and expertise to help you thrive. We are a CMS accredited facility and provide training by a licensed Occupational Therapist and/or Physical Therapist, a Certified Orientation & Mobility Specialist, and an Assistive Technology Specialist.
We offer a variety of low vision services that supplement the services of optometrists and ophthalmologists alike. Our vision rehabilitation and training services assist in everyday activities—regardless of their ability to pay.
Learn about the Envision Everyday store.
For services in the Dallas, TX area, please click here.
Vision Rehabilitation Center at Envision in Wichita
Contact us about vision rehabilitation services.
We'll help you navigate the referral process.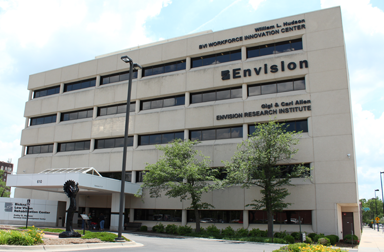 Occupational Therapy
Focus on skills and maintenance strategies to maximize remaining vision and aid you in your chosen activities of daily living. Our therapists can evaluate your home or work environment for safety and make recommendations on everything from lighting to assistive devices.
Physical Therapy
Gain support with issues related to balance, gait training, fall risk, or vertigo. Our goal is to help make everyday activities easier for you so you can remain independent in your own home.
Orientation & Mobility Training
Orientation and mobility training is geared toward allowing blind and visually impaired individuals to travel independently. This is primarily achieved through instruction in the use of a long cane, while simultaneously learning to efficiently interpret and utilize other sensory input during travel. This comprehensive training program allows the participants to regain total travel independence in their lives.
Assistive Technology
Learn how to use the assistive technology that's best for your lifestyle. From screen-reading software and closed-circuit televisions to portable video magnifiers and smart phones, all kinds of resources and devices are available to help with communication, schoolwork, professional situations and more.
Independence Boulevard
Inside our vision rehabilitation center, we've built a small neighborhood called Independence Boulevard. Here you'll find a functional house, grocery store, restaurant, and walkway. Independence Boulevard is an excellent alternative to safely learn to navigate everyday situations with confidence, if training in one's personal environment is not feasible.
---