Envision Interface is your partner in supplementing and enhancing your call center.
Why Outsource to Envision?
Are you experiencing high turnover or difficulty in even finding qualified employees?
Envision Interface has a large pool of employees who are ready and able to help supplement your existing team.
We have a high retention rate with employees that have lengthy tenure with the company.
Are the rising costs overhead, insurance and operating costs causing you to lose revenue and efficiency?
Outsourcing could be your solution. You pay no benefits, you pay no overhead - you just reap the rewards of highly skilled and proven call center professionals.
Envision Interface can offer:
Low abandon rates
Regular reporting on the KPIs that matter to you
Rapid onboarding and rapid growth
Bilingual call center representatives (English and Spanish)
Trained and dedicated staff
Extremely low turnover rate
Life-changing jobs
Let us tell you about our unique workforce.
Envision Interface has two locations - Dallas, TX and Wichita, KS - and our staff consists of individuals who are blind or low vision and typically sighted. All have an unmatched dedication to their jobs and a drive to get real results. When you do business with us, you are not only maximizing your sales and customer service efforts, you are making it possible for adults with visual impairments to build life-changing, rewarding careers in professional positions and to contribute to their communities. Learn more about Envision's mission.
What does working at Envision Dallas mean to you?
"Being employed at Envision Dallas in the Call Center has had an extreme impact on me for the last ten years. I have been able to show my work ethic along with my motivation to keep driving myself to higher goals and positions within the company. Envision Dallas has an impact within the blind and visually impaired communities throughout the State of Texas. I have a family that I help support which makes me proud of my accomplishments and future endeavors!"
Gale L., Call Center Campaign Representative
Let us help your business grow.
Appointment setting

Order entry

Sales

Lead generation

Qualifying leads

Market research

Dispatching
---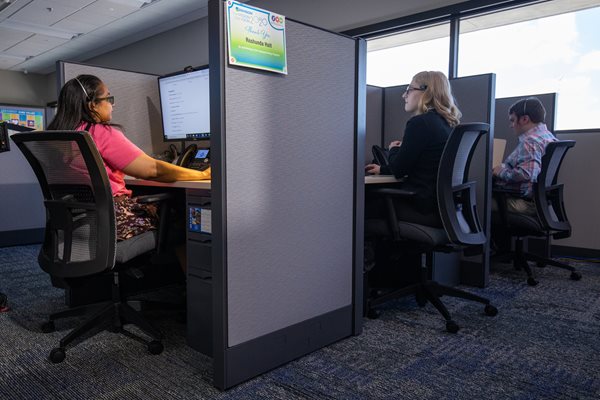 What does working at Envision Dallas mean to you?
"What motivates me is knowing that all our hard work creates meaningful employment and possibilities for people who are blind and visually impaired. The leadership, team dynamic and culture at Envision is encouraging to all of us because we know that our company is invested in our success." - Shane H., Call Center Lead
Envision Dallas Signs Contract with Dallas 311
The Dallas City Council approved a proposal on June 8 to partner with Envision Dallas's Interface contact center to employ seven people who are blind or visually impaired to answer calls for municipal court customer service.
Read more
Envision Interface In the News
Read stories below from various media outlets covering our stories.