Registration for Level Up 2022
Register now for the Middle School Program held July 18-23, 2022.
Registration for the Level Up High School Conference held June 19-25, 2022 is closed.
Students can be recommended by their parent or guardian, a teacher of students who are visually impaired (TSVI), an educator or low vision professional.
Level Up COVID RESPONSE
Our goal for Level Up has always been for youth who are blind or visually impaired to have a safe and fun learning experience. We will adhere to the Covid-19 response of our host campuses, Wichita State University and Butler Community College. WSU COVID RESPONSE - BUTLER CC COVID RESPONSE
Additionally, the American Camping Association recommends all camps/residential programs should have vaccination policies for attendees that align with governing bodies recommendations, such as the CDC or the American Academy of Pediatrics.
To attend Level Up, participants can either provide a copy of their current Covid-19 vaccination card or provide results from a negative Covid-19 test, taken within 24 hours of arrival to campus.
CONNECT • ENGAGE • ACT
Gaining independence as you transition into adulthood is important. For students who are blind and visually impaired (B/VI), Envision offers an energetic and valuable program where students:
CONNECT with instructors and peers to learn to use Assistive Technology (AT), ENGAGE in fun and inspirational activities with friends from all across the US, and ACT to help bridge the digital divide as they advance their education and prepare for transition to higher education and/or employment.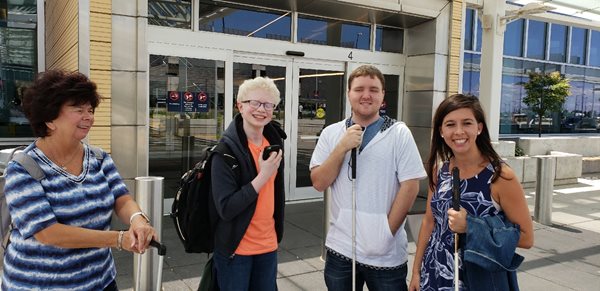 What is the Level Up program?
Our national Level Up Program consists of various week-long training programs for students from across the country who are blind or visually impaired. Partnered with teachers, families, assistive technology professionals and several local community colleges and universities, the Level Up Program addresses the needs of students who are blind or visually impaired through every step of their education. The Elementary PREP is a day program for 4th through 6th grade that introduces students to computer and assistive technology basics. The Middle School program works to promote academic success by developing independence, success skills and leadership, while students learn more about assistive technology. The High School conference elevates these skills and is designed to prepare students to successfully transition to college and career.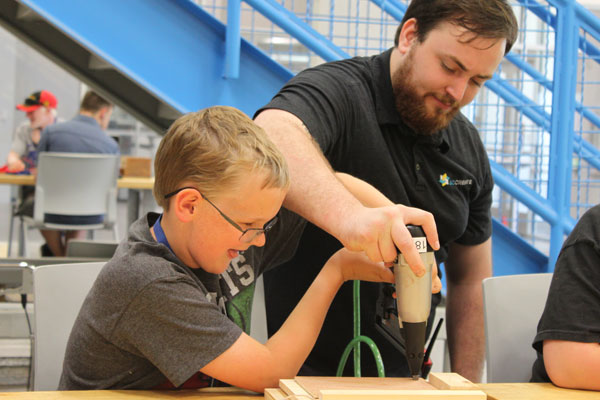 Positivity, Readiness, Empowerment, Possibilities
The Level Up PREP Program for elementary students offers positive and experiential sessions focusing on the basics of technology instruction. The conference helps students develop an appreciation and excitement for computer usage while empowering students to complete their lessons and meet the required learning goals. The program includes:
Computer instruction utilizing assistive technology
Individualized assessments
Keyboarding skills
Motivational and inspirational speakers
Communication skills / Soft skills
Study & Organizational skills
Advocacy
STEAM / Physical Education
Parent Forum
Family Social
Learn, Grow and Advance Skills
In collaboration with Wichita State University, students receive critical mentorships and encouragement to build independence by offering sessions that increase their technological literacy and interpersonal, psycho-social and soft skills. We ensure students have the tools they need based on the recommendations from their Teacher of Students who are Visually Impaired (TSVI).
Students engage with their peers in fun social activities and learn from professionals in community-based outings! Highlights include:
Instruction utilizing assistive technology
Keyboarding skills
Individualized assessment
Communication skills
Life skills/study skills/soft skills
Field visits to community businesses
Motivational and inspirational presentations
Leadership skills
STEAM
Physical education
Excel, Aspire and Achieve
The Level Up High School conference by Envision is designed to prepare students to successfully transition from high school to college and career. We'll work to develop both assistive technology skills and interview skills that set the stage for their future success. Join us as we create a new variety of leaders—regardless of visual impairment.
This conference includes:
Inspirational Speakers
Technology Labs
Interactive Image Workshop
STEAM Workshops
Physical Fitness
Success Skills
Interview Skills
College and Career Expo
Evening Experiences
Parent Engagement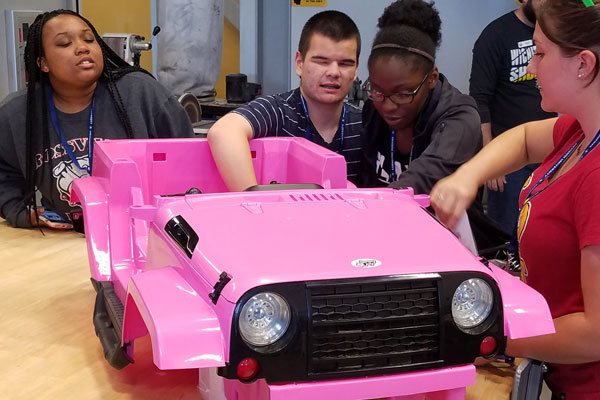 What can students who are blind or visually impaired gain from Level Up?
Increase technological literacy
Advance communication skills
Build on impactful life skills, study skills, and soft skills
Develop leadership skills
Stretch the mind during our STEAM and Physical Education courses
Explore opportunities for the future at our college and career expo
Better understand business etiquette, interview skills and how to effectively job search