Envision Dallas Launches Capital Campaign to Increase Access to Meaningful Employment and Services
By Envision Marketing • Jul 14, 2022
Blog Content
Region's Largest Employer of People Who Are Blind and Visually Impaired Launches Capital Campaign to Increase Access to Meaningful Employment and Crucial Services

"Envision the Possibilities" kicks off with largest donation in organization's history, nearly halfway to $15 million goal

DALLAS, TEXAS (July 14, 2022) — Envision Dallas continues its momentum as part of one of the nation's largest service providers to and employers of people who are blind or visually impaired with the launch of its first-ever capital campaign. The $15 million initiative will establish a new state-of-the art center in Dallas focused on increasing employment opportunities and promoting access to resources key to independent living for people with vision loss.

The LC Industries Foundation, who has long supported Envision's mission, is fueling the fundraising with a $6 million gift, the largest donation in Envision's history to help fund the renovations of our new facility in Farmers Branch.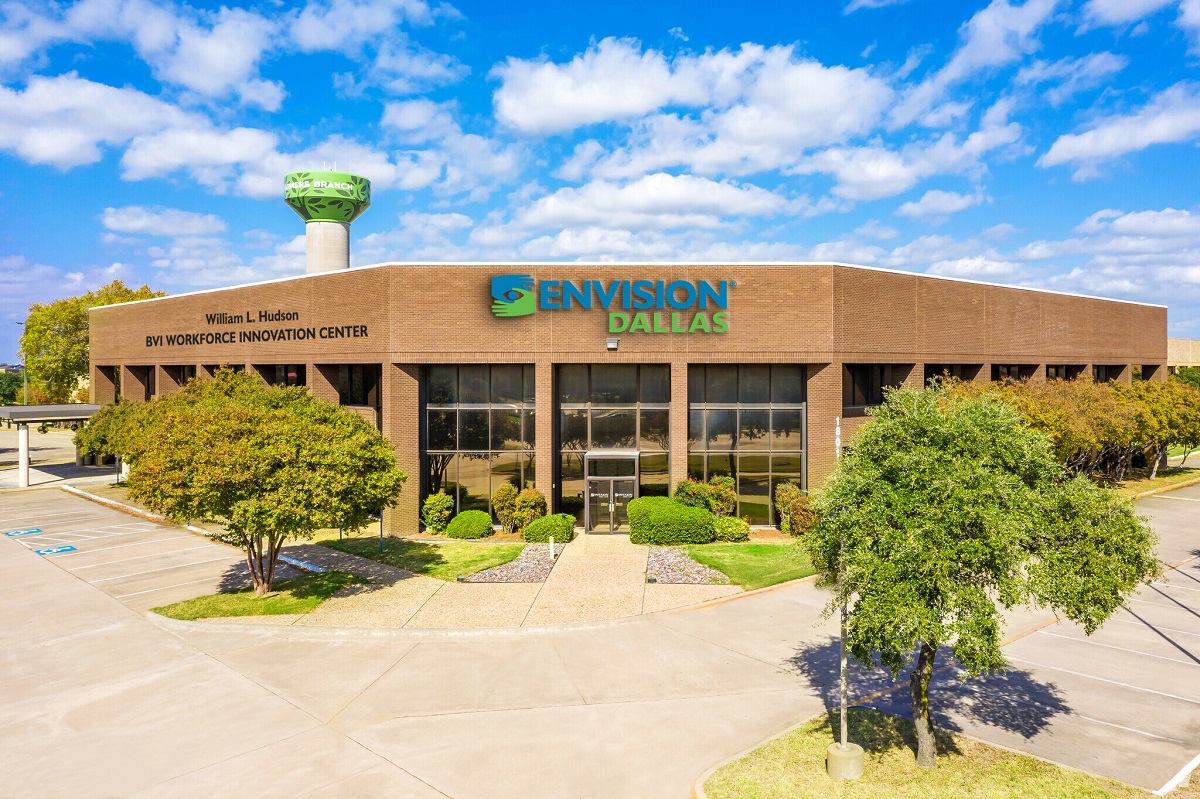 "Envision Dallas proudly employs nearly 150 people who are blind or visually impaired and provides more than 3,000 others with crucial services each year," said David Stupay, managing director of Envision Dallas. "However, there are more than 150,000 individuals who are blind or visually impaired in our North Texas community who need services. Investing in expansion is essential for us to be able to support the growing demand and create customized spaces with advanced technology and services that will allow us to employ and provide programs to even more people."

"The LC Industries Foundation Board of Directors want to thank the Envision Dallas team for taking the bold step in making this operation a reality," stated William L. Hudson, Chairman of LC Industries Foundation. "As we continually look for opportunities to make a significant impact on the lives of people who are blind or visually impaired, we are proud to support Envision Dallas in their efforts to serve even more people in North Texas. Thank you for giving us the opportunity to be a part of this initiative."

"We appreciate the impact of the LC Industries Foundation gift to Envision Dallas. It's an honor to continue the legacy of Mr. Hudson. He is an icon in our industry and has been at the center of creating national employment opportunities for people with vision loss for over 50 years," said Michael Monteferrante, president and CEO of Wichita, Kansas-based Envision, which acquired Envision Dallas in 2018. "We've seen first-hand at our Envision headquarters the impact the William L. Hudson BVI Workforce Innovation Center and the Cathy G. Hudson Envision Child Development Center have made on the lives of the visually impaired and are eager to transform the landscape of employment and independence for people with vision loss across North Texas."

Envision the Possibilities, a campaign for Envision Dallas, will be dedicated to relocating the current Dallas operations to a new 210,000-square-foot campus in Farmers Branch that will nearly double its size and allow for growth of its employment, educational and rehabilitation services. Once complete, the new facility is expected to create up to 200 new job opportunities for individuals who are blind or visually impaired over the next three years and include:

A Workforce Innovation Center dedicated to training people who are visually impaired for employment in technology-driven fields, placing them into skilled positions and providing accessibility inclusion expertise to businesses around the U.S.
Expanding the Gigi and Carl Allen Family Rehabilitation Center serving all ages with vital therapy, training and support.
Growth of the College Success Program to help students prepare for and thrive in their college experience in order to enter the workforce.
An Early Childhood Development Center that will pair children who are blind alongside those who are typically sighted in classrooms to learn from each other and develop foundational emotional skills.
A 100-seat call center which includes the employment of people who are blind as well as typically sighted to serve as customer service agents for businesses.
Increased programming focused on providing community support and social opportunities.
The programs and services provided by Envision Dallas can mean the difference between unemployment and meaningful work; between assisted living and living independently; between dropping out of school and excelling in college; between a sense of isolation and a sense of belonging.

For more information about the campaign, please visit our Envision the Possibilities website.

About Envision Dallas: Envision Dallas promotes advocacy and independence for those who are blind or have low vision. Since 2018, Envision Dallas has taken strategic steps to expand and enhance its operations in North Texas with increased employment, opening of the VisionMax Low Vision Clinic, and the American Foundation for the Blind Center on Vision Loss and Esther's Place, a model apartment designed to help individuals who are blind or visually impaired gain higher levels of independence in a home setting.

Founded in 1933, Envision is one of the largest employers of individuals with vision loss in the nation. Headquartered in Wichita, Kansas, Envision's mission is to improve the quality of life and provide inspiration and opportunity for people who are blind or visually impaired through employment, outreach, rehabilitation, education, and research. For more information, visit www.envisionus.com.

Media Contact: Holly Herring, Marketing Manager
Office: 316-440-1531 | Email: media@envisionus.com