Leading-edge child development
Our state-of-the-art facility brings children ages 0-5 years together in classrooms in which all students, irrespective of their abilities or skills, are welcomed holistically. We are the only vision-integrated early education center in the region providing comprehensive learning experiences and support to children and their families. We offer:
A certified breastfeeding friendly facility. Inside the Breastfeeding Nook, you will find a commercial-grade/hospital-style breast pump, rocker/glider chair, and sanitation supplies.
An education in the fine arts. Through our partnership with Wichita State University, we offer a music class once a week. Additionally, we have an art education teacher who works with the children weekly.
A STEAM lab where children enjoy hands-on learning activities that apply science, technology, engineering, art and mathematics skills.
Diverse early childhood educators who are passionate about teaching and advocate for high quality care and inclusive early learning. Environments have been cultivated that reflect respect for individuality and foster a sense of self and belonging for all children.
Frog Street curriculum, which coordinates with the Kansas Early Learning Standards. Embedded in the lessons are intentional activities and support in the five developmental domains: language, cognitive, social and emotional, physical.
Watch Me Grow helps keep families connected with the safest and highest quality streaming video camera system available. Families create a secure account and stream live video from any browser, tablet, or mobile phone. This is an optional service with a one-time fee.
Hours of operation Monday – Friday, 7:00 am – 5:30 pm
Envision Child Development Center
For more information or to schedule a tour, contact Teresa Houston, Director via email or by calling 316-440-1632 .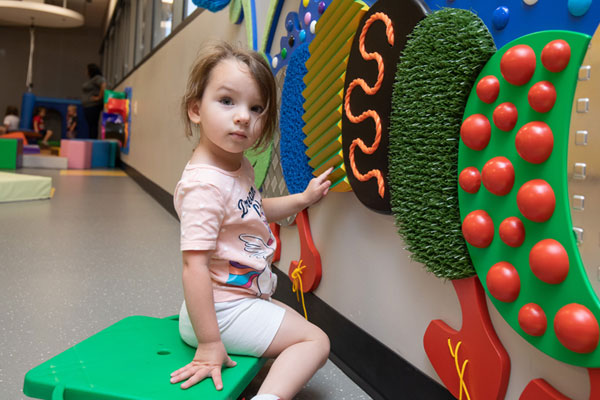 Who we serve:
Nursery (2 weeks to 12 months and walking)
In the Nursery, we accommodate children's natural curiosity. Lessons and activities are child-centered and intentional. Caregiver and child interactions are encouraged to develop rich oral language and vocabulary as well as strong social and emotional connections.
Transition 1 (12 months and walking to 2 ½ years)
In the Transition 1 classroom, strong routines that build key social and emotional skills are part of daily lessons. These lessons balance intentional and integrated instruction with child-directed play.
Transition 2 (2 ½ years to 4 years)
Curricula uses early brain development research as the framework for instruction. Lessons provide comprehensive, integrated, thematic activities in all disciplines and domains.
Preschool (4 years to school age)
Preschool lessons are child-centered, intentional, and integrated. Focus remains on social and emotional development, kindergarten readiness, and are aligned to Head Start Early Learning Framework. The design of the lessons offers scaffolding and challenge opportunities.