Kansas Vision Coalition Successfully Advocates a New Law for School-Administrated Vision Screenings
By Holly Herring • Jun 01, 2022
Blog Content
Kansas Vision Coalition Successfully Advocates for a New Law for School-Administrated Vision Screenings

In its short existence, the multidisciplinary, nonpartisan KVC has made great strides in achieving its central objective to make vision health a priority in Kansas

WICHITA, Kan. (June 1, 2022) — Thanks to the efforts of the Kansas Vision Coalition (KVC), Kansas Senate Bill 62 was passed, signed by Kansas Governor Laura Kelly and will become law on July 1, 2022. The legislation amends the standards for school-administrated vision screenings. These screenings will now have specific requirements and trainings that will help to provide exceptional and efficient service to all Kansas school-aged children and will also emphasize the importance of referrals for eye examinations of students based on the results of the screening.

Kansas is one of 40 states that currently requires vision screening for school-aged children, along with becoming the 27th state to require vision screening for pre-school children. The revision of the Kansas Vision Screening Guidelines for Children was something that hadn't been attempted in nearly 14 years. As part of this success, the KVC was awarded the 2022 Kansas Optometric Association's Vision Service Award. The award is "…In Appreciation of Outstanding Contributions to the Visual Welfare of the State of Kansas."

"It's satisfying to see this broad range of stakeholders from across the state of Kansas being recognized for their efforts in children's vision health. Envision is proud to be part of the diverse team," said Michael Epp, Manager of Professional Education at Envision. "We all have more goals that we want to accomplish together and look forward to discussing our next step forward at the upcoming Vision Summit in the fall."

The KVC was founded in late 2017 as an Envision outreach initiative and now includes 25 diverse member organizations across Kansas. Charter member organizations besides Envision with representation include the Kansas Optometric Association, Lions Sight Foundation, Kansas State School for the Blind, the Kansas School Nurse Organization, Kansas Department of Health, Environment (KDHE), the Kansas State Department of Education (KSDE) and more.

The idea for the coalition is to collaborate on shared initiatives and cross-referrals, reduce replication of services and close service gaps, particularly for children. Now that the Kansas Vision Screening Guidelines for Children have been revised, current goals for the group are to complete online training materials for Kansas School Nurses on the updated screening guidelines to be hosted on the Envision University Online CME platform. As well as to hold a Vision Summit in the fall of 2022 and identify other needs from the member organizations the KVC should take on next.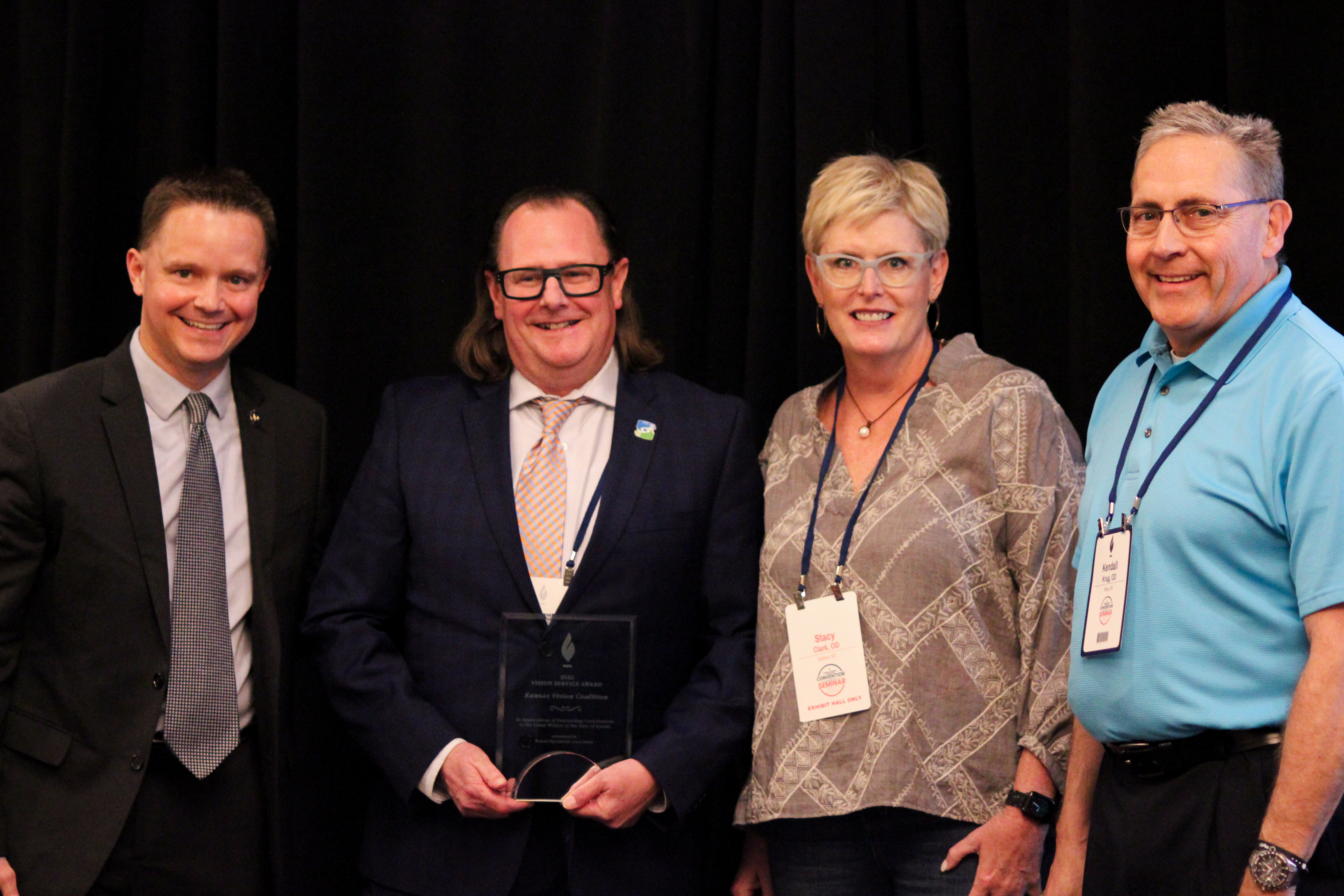 Pictured L-R: Dr. Eric McPeak, President, Kansas Optometric Association Board of Directors; Michael Epp, Envision KVC representative; Dr. Stacy Clark, KVC member; Dr. Kendall Krug, KVC member.

Visit the KVC website at kansasvisioncoalition.com for more information and read the revised Kansas Vision Screening Guidelines for Children by clicking here.

About Envision: Envision promotes advocacy and independence for those who are blind or have low vision. Founded in 1933, Envision is one of the largest employers of individuals with vision loss in the nation. Headquartered in Wichita, Kansas, Envision's mission is to improve the quality of life and provide inspiration and opportunity for people who are blind or visually impaired through employment, outreach, rehabilitation, education, and research. For more information, visit www.envisionus.com.

Media Contact: Holly Herring, Marketing Manager
Office: 316-440-1531 | Email: media@envisionus.com