Envision Celebrates White Cane Day with a Demonstration Event and a City Proclamation
By Holly Herring • Oct 05, 2021
Blog Content
Wichita, Kan. – White Cane Day in October will be recognized as an official city proclamation by Brandon Whipple, Mayor of the City of Wichita, along with the Wichita City Council. Envision, a local nonprofit that improves the quality of life for people who are blind or visually impaired, will accept the proclamation at a city council meeting and celebrate with members of the public on Friday, October 15th at 1 p.m. White Cane Day is a national observance, celebrated on October 15 of each year since 1964. The holiday represents travel independence for those who are blind or visually impaired and advocates for motorists to be extra alert in observing those using white canes and guide dogs.

On this day, Envision is organizing a demonstration with employees and community members who are blind or visually impaired to walk with their white canes from the downtown Envision building to the Law Enforcement Memorial outside City Hall at 1 p.m. Their typically sighted colleagues and friends will join them during the walk which will include City Council Member Cindy Claycomb, Sedgwick County Commissioner Lacey Cruse, BlueCross BlueShield of Kansas employees, Wichita Transit employees, and more. Vice Mayor Brandon Johnson will meet the group outside City Hall to show support.

"As a Wichitan who is completely blind, I am grateful to our Wichita city leaders for recognizing how important this holiday is to our community," said Teresa Houston, Director, Cathy G. Hudson Envision Child Development Center. "We need to celebrate White Cane Day to increase awareness of being inclusive to all – including those who are blind or visually impaired."

Within its Main St. headquarters, Envision houses a vision rehabilitation center, a CMS accredited facility, that provides comprehensive, multidisciplinary vision. Ray Oddis is Envision's Certified Orientation & Mobility Specialist and teaches people who are blind or visually impaired how to navigate safely and independently using their white cane.

"When you have the good fortune to see someone traveling with a long cane, your heart should be filled with inspiration," said Ray Oddis, Envision's Certified Orientation & Mobility Specialist. "The long cane user is a person who possesses an indomitable spirit. They have persevered, and have transitioned to a level of high independence, despite the hurdles that their blindness has placed in front of them. This required tremendous dedication to learn the skills necessary to regain their independence."

Envision employee Mika Pyyhkala is also entirely blind and travels back and forth from Boston, Mass. to Wichita every other week. He navigates airports, sidewalks, public transportation and more by himself with help of his white cane and other assistive tools.

"The white cane, guide dog, and accessible technology are key solutions used every day by people who are blind and visually impaired across the country," said Mika, director of digital accessibility at Envision's Workforce Innovation Center. "I am proud to work for a company that is working hard to advance full inclusion, provide opportunities, and improve the quality of life of the blind and visually impaired community."

As the largest employer of individuals who are blind or visually impaired in the region, Envision is passionate about normalizing the use of white canes and the independence and opportunity for those with low vision. Join or support Envision's White Cane Day activities by engaging with them on Instagram and follow the Facebook event.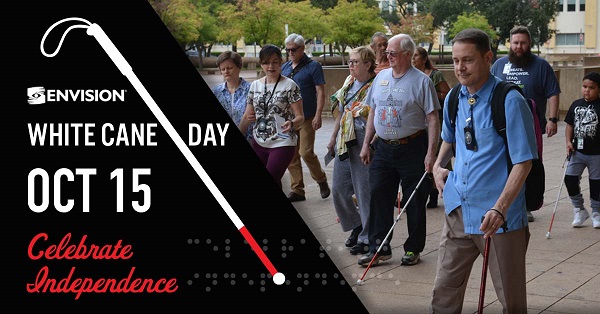 ---



About Envision

: Envision promotes advocacy and independence for those who are blind or low vision. Founded in 1933, Envision is one of the largest employers of individuals with vision loss in the nation. Headquartered in Wichita, Kan., Envision's mission is to improve the quality of life and provide inspiration and opportunity for people who are blind or visually impaired through employment, outreach, rehabilitation, education and research. For more information, visit www.envisionus.com.



Media Contact:


Holly Herring, Marketing Manager, Envision, Inc.
Office: 316-440-1531
Email: holly.herring@envisionus.com