Envision Dallas Low Vision Occupational Therapy Services
A low vision occupational therapist (OT) in a licensed healthcare professional trained in low vision techniques to maximize your remaining vision to support participation in meaningful activities to promote health and well-being.
Services are provided in the home or at Envision Dallas and may include the following:
Optimize reading and writing skills
Strategies in cooking, cleaning, organization and laundry
Medication and financial management
Optical device training and adaptive equipment training
Recommendations in environmental adaptations on lighting, managing glare and enhancing contrast
Home safety strategies to reduce fall risk
Visual skills training for scanning and eccentric viewing
Information on community resources
Visual diagnosis education and impact on function
Services are covered by Medicare and most major commercial insurance companies. Financial assistance available for those who qualify.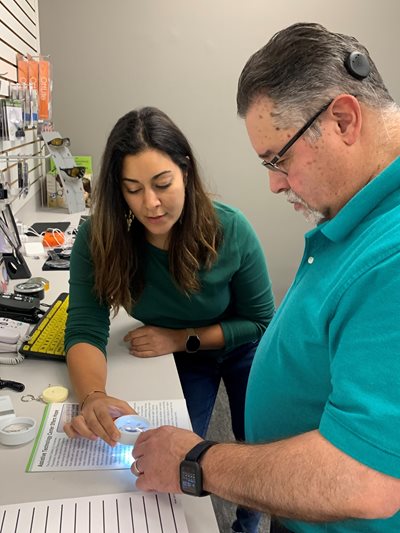 Contact our licensed OT professional today for questions or to get started
Merit Franklin, OTR/L
Low Vision Occupational Therapist
Gigi and Carl Allen Family Vision Rehabilitation Center at Envision Dallas