Love What You Do
We believe that the Dream Job can be a reality. And every day is an opportunity to inspire, grow and serve. Read about how Envision employees find fulfillment in their careers.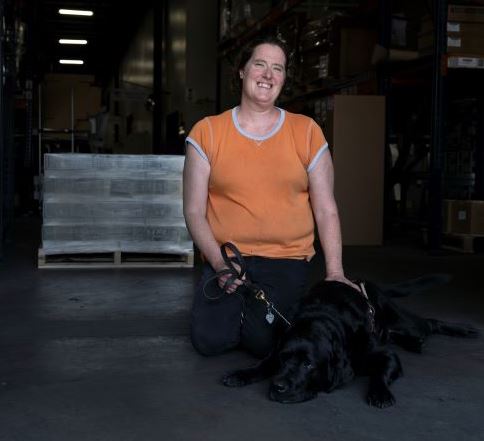 Sandra grew up in a small town in Ohio where she was a caregiver to individuals who were elderly or multi-disabled. She loved her small town, but she wanted more. Sandra's parents both have a visual impairment, and Sandra was diagnosed with the same visual impairment at birth. Her eye disease is degenerative, and she knew she would have to find different work.
She began looking for a job where her eye condition didn't determine her ability to be successful. She found Envision, where the focus is on an employee's ability, not his or her disability. Sandra was offered a work trial as a machine operator in Envision's manufacturing facility. However, Sandra lived in Ohio, and the Envision facility she wanted to work at is based in Wichita, Kansas.
Thankfully, the Envision human resources department flew Sandra out to Wichita, covering her expenses and providing transportation during her stay. Once Sandra decided that Envision was a perfect fit for her, Envision paid for her relocation and helped her find a place to live.
Sandra likes that she works side-by-side with both visually impaired and typically-sighted coworkers. In a short amount of time, she made many friends and has an active social life. She's thankful for the transportation service which picks her up at her apartment and drops her off in front of Envision. She also likes that Envision offers a workout facility for employees free-of-charge.
"I couldn't have asked for a better relocation program," says Sandra. "Envision has been perfect for me."
Sandra is part of an integral team that works together every day to help Envision grow its mission. Sandra and her teammates are a valued part of the Envision family, and are proof that with the right tools, everyone can be successful.
Andy Hoffman is known for his humor and charisma. He works in the Envision customer service department as a Commercial Customer Service Inside Sales Representative.
Andy and his daughter, Ava, often like to draw together. Ava loves to show her dad her works of art – proudly making him feel her creation instead of admiring it on the refrigerator. Unlike most dads, Andy is visually impaired.
In the spring of 1991, Andy began to see floaters in his eyes, and they were not going away. "No one knew why I was losing my vision. It was just going fast. I knew it was always going to be... part of my life," says Andy. "My vision loss has always had a little fun part in my job. There were always little things that got more and more difficult."
His mom Marsha was discouraged that he would not be able to find a job, but Andy's hard work led him to be certified in several computer programs, and he got hired at a major mobile carrier.
After working there for 10 years, the company switched technology programs for customer service, which was designed to be light gray and blue because of its aesthetic value. The program was difficult for Andy to see, and they let him go. Andy was disheartened, but fate had bigger plans for him.
Andy was led to Envision, where he excels in customer service. Andy says that he feels more relaxed and confident and that he fits in well.
"When you feel good about what you do and you're proud of your work at the end of the day, that's so important," says Marsha, Andy's mom. "Life without Envision for Andy would be really hard."
Andy isn't just an employee at Envision, he's also an active participant in Heather's Camp, where he serves as a mentor to kids and teens, inspiring others and teaching them skills like archery, fishing and more. He also golfs in Envision's golf program in the summer, improving his swing and helping golfers who are new to the game.
"Envision's been able to give me a job, something that I like and I think I'm really good at," says Andy. "It's nice to go somewhere and be a part of something that's not just to make money but to provide a service, jobs and programs that help everyone."