Wings of Wichita: A Envision Arts Gallery and Aloft Wichita Collaboration
By Beth Walker • Oct 24, 2023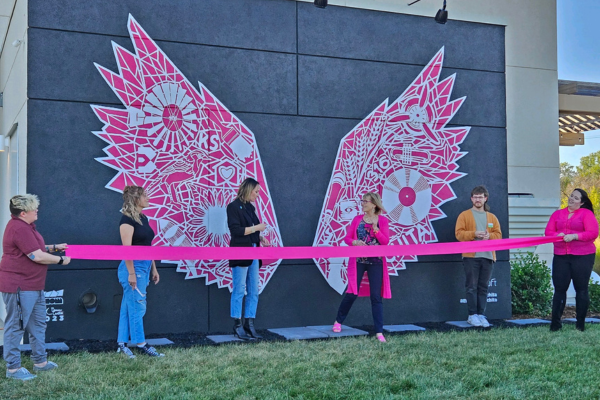 Blog Content
Since 2016, Envision has been sharing its mission with the guests of the Aloft Hotel of Northeast Wichita, which has exhibited over 60 pieces of rotating artwork from the Envision Arts Gallery at any given time inside the hotel. Now, Envision's mission is more visible to all guests and Wichitans alike with a new mural facing the highway at the Aloft, due to yet another wonderful collaboration between Aloft and the Envision Arts Gallery.

A Wings of Wichita Mural Party was held in October to celebrate the new mural which is composed of landmarks and iconic symbols that make up the state of Kansas. Starting with a ribbon cutting ceremony, attendees were able to hear about the passion behind the mural collaboration, later enjoying tacos, margaritas, art activities, and shopping from Christina Kester, an Envision Arts participant who is visually impaired and beads elaborate jewelry pieces with her mouth.

"In Wings of Wichita, we've mixed our city's heart with symbols like the Keeper of the Plains, Riverside Rocket, sunflowers, and a nod to Pizza Hut's legacy," said Dale Small, Envision Arts Gallery Coordinator. "Like musical notes, these icons blend within the pink wings, giving you a fresh view of Wichita each time you glance at them. The lines help you find and lose these symbols like a kaleidoscope. If you squint, everything blurs except for the strong wings, symbolizing our city's enduring spirit."

Susayn Brandes, CEO and Chairman of Great Plains Ventures, (GPV) and owner of the Aloft Hotel of Northeast Wichita in partnership with her brother, Marque Peer, Vice President of Real Estate and Development for GPV, have both been long time supporters of Envision's mission. They have been sponsors for annual Golf Fore Vision Tournaments, Evening with Envision Galas, and the Envision Arts Program.

"When Brandes approached us about her desire to have a mural painted outside the Aloft, she had been inspired by the mural tour that she had recently shared with her girlfriends in Nashville, Tennessee," said Sarah Kephart, Envision Arts Manager. "Once we gathered with the Aloft team to discuss what images we would like to see inside the wings, it became evident that this was going to honor our great state of Kansas as well as being a celebration of the history and current vibrancy of Wichita."

The Envision Arts team dove into the design process soon after, and Brandes fell in love with their creation immediately. Brandes shared, "It is such an amazing addition to our art collection at the Aloft. It is, indeed, the capstone."

"I have overseen every single work of art that has graced the walls of Aloft, and the Wings of Wichita mural speaks volumes as to how we can create stronger, healthier and more vibrant communities when we work together toward common goals that improve the overall quality of our life here in Wichita and beyond," said Sarah Kephart, Envision Arts Program Manager.