Long-time Envision Employee Excels Through Interface Call Center Operations
By Beth Walker • May 23, 2023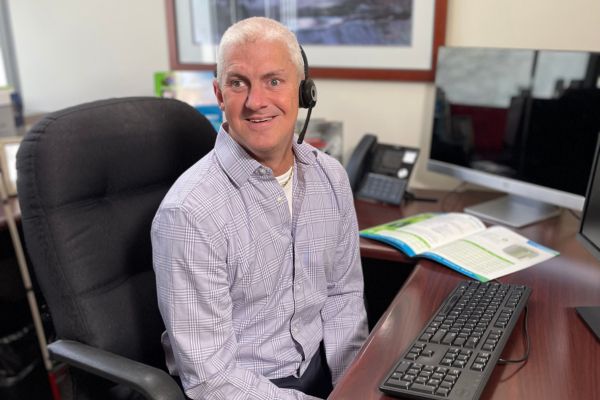 Blog Content
If you talk to Andy Hoffman, Envision Interface Call Center Supervisor, for any length of time, his passion for his work and helping others is evident.

Hoffman has found personal and professional fulfillment during his 11 years working at Envision, the majority in customer service and sales for Envision Industries. Now, Hoffman has a new passion: helping grow the Envision Interface call center in Wichita.

Like other Envision operations, Interface provides employment opportunities for people who are blind or visually impaired.

The call center originally started at Envision Dallas and now employs nearly 30 people at that location. Hoffman, who is blind, is one of five people who work in the Interface office in Wichita. The near-term goal for this location is to employ 18 people. That figure depends on being able to attract more customers.

"We are constantly trying to find businesses we can provide services for," said Hoffman, who transferred to Envision's call center six months ago and now serves as a supervisor there.

Hoffman said Interface creates more white-collar job opportunities for people who are blind or visually impaired and serves as a complement to Envision's robust manufacturing operations.

Interface utilizes a voice-over program called Job Access With Speech (JAWS) to help employees who are blind or visually impaired to perform their job. Interface employees make calls on behalf of the Better Business Bureau and perform various card services such as activating rewards cards and checking available balances.

The Dallas location also includes a contract with Dallas 311 to provide customer service for the city's municipal court.

Another emphasis for Interface is providing training for outside organizations to increase job opportunities and upward mobility for individuals who are blind or visually impaired.

Hoffman is loving every minute of it. "There are great things happening at Envision, and I am grateful that I have not only been able to help Envision's call center grow but have been able to grow in my career," he said.

To learn more about the Interface Call Center, click here for more information.