Lessons from 15 Years of Working at Envision's Day Support Program
By Beth Walker • Mar 09, 2023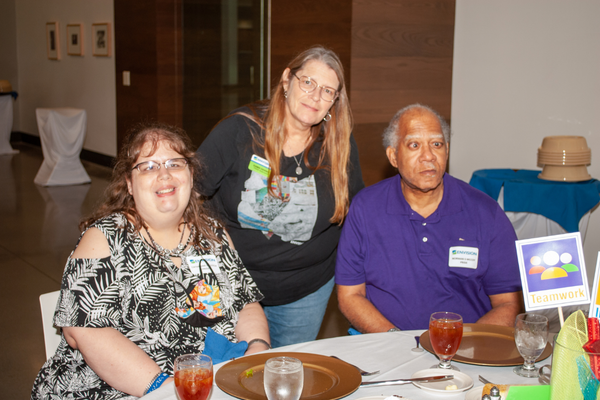 Blog Content
Employment trends within the last few years have revealed that an employee's average tenure at one company is around four years. So, when you hear about someone staying in one place for over 15 years like Dawn Dennis, you can't help but admire the passion and dedication they represent.

Dawn is a Day Support Program Supervisor for Envision's PRIDE, a program designed for adults who are both legally blind and have intellectual developmental disabilities (IDD). This program has been around for more than 20 years at Envision and provides support, opportunities for employment, helps build self-confidence, and offers a sense of community for those who are blind and have IDD. It incorporates a balance of instruction, recreational activity, social training, work experience and activities that are personalized to meet the needs of each person. Every PRIDE consumer is considered an Envision employee and gets paid for the jobs they decide to work on every day.

This program would not be possible without someone who is able to plan and implement activities, listen to the needs of each consumer, build relationships with consumers, and truly help each consumer to become the most independent and successful person they can be. This is where Dawn comes in. She has been the longest employee of Envision PRIDE, since 2008. She has been a Day Support Program Supervisor for the program since 2021.

Dawn was introduced to the field of Day Support through Heartspring, a Wichita, Kan. nonprofit that serves children with special needs and developmental disabilities. She was introduced to Envision when she was working with a child at Heartspring who had developmental disabilities as well as a vision impairment, and she was told to refer the child to Envision's Day Support Program. She was eventually asked if she would be interested in a Day Support position through Envision, and she said yes.

A Day in the Life of a Day Support Program Supervisor

What is each day like for Dawn? Well, she is always planning activities for the week, overseeing and assisting daily jobs and tasks, and holding progress checks and meetings with each consumer. But most importantly, she is building and maintaining positive relationships.

"I have them every day from the time they walk in, to the time they leave. I have 4 or 5 consumers every day who come into my office as soon as they get there and they tell me about things going on in their lives, and they ask me questions about my life too. If I am gone for a day and come back, they will immediately ask where I have been and if I am okay. They make me laugh and smile, and they just warm my heart."

Activities for the group range from bowling and going out to eat, to art and exercise classes and renting out a theater for movie days. Dawn oversees the scheduling of staff as well as karaoke every Friday, which she says has been a staple activity for as long as she can remember. She also assists with teaching cane usage classes for those who use a white cane.

Employment Opportunities for All

Every consumer works and is paid, and Dawn oversees each job to make sure it is allowing each consumer to be successful and independent. Each individual chooses when and how much they want to work. They enjoy the time they spend being productive and accomplishing a goal, while gaining valuable work experience.

Envision helps them be successful in their work, which provides an opportunity for participants to earn a paycheck through Envision Industries fulfillment services. Jobs typically include tasks like labeling, kitting, stuffing envelopes, assembling gift baskets, assembling boxes and small parts assembly (i.e., pens).

As one of the largest employers of people who are blind or visually impaired, Envision strives to improve the quality of life for people with low vision and provide employment opportunities that they might struggle to find elsewhere. The Day Support Program at Envision is just one example of how this is accomplished.

Any business or organization can enlist the service of the group for these jobs. To request services, contact Jared Holcomb, Program Manager, at pride@envisionus.com.

Passion and Purpose

Dawn takes her job very seriously and she knows that she can have a big impact on each consumer's life.
"One thing I've learned is that people who are blind or visually impaired with disabilities need assistance and encouragement. Everyone can reach their goals if they are showed how. Most are just never taught that they can succeed with the right tools and guidance," said Dawn.

Being a Day Support Program Supervisor is something she is passionate about, but what truly inspires her to come to work every day is the relationships she has fostered over the years.

"The consumers make my day every day because their outlook on life is so positive. I feel like a part of a family with them. They are my family. Everything I do from point A to point B is to help others, and that is just so satisfying and fulfilling."

The Need for More Day Support Professionals

While she has been able to do it all, she says that with the help of another Day Support Program Professional, the program would be able to be more personalized to each consumer.

"It would give us extra hands to give opportunities for all consumers to go on trips at once with easier supervision, and we could do a lot more individualized things per consumer. It would also help with overseeing of the jobs consumers have and making sure they are successful. Being able to plan activities further out and being able to do more unique things and come up with fresh ideas would be amazing."

Dawn continued, "Envision is great to work for and has many benefits. The program I supervise is one of the rare programs that works with those that are both blind or visually impaired and have IDD."

Dawn believes that being a Day Support Program Supervisor has allowed her to have a sense of purpose in life. "The one thing that has kept me here is the consumers. I have learned so much from them and I feel like I have a sense of community and purpose. That is why I have been here for over 15 years."

If you are interested in learning more about PRIDE, or are interested in becoming a Day Support Program Supervisor, please email Jared, PRIDE Program Manager at jared.holcomb@envisionus.com.