Grand Rounds Emphasized Team Approach to Care
By Terri Maus • Nov 30, 2022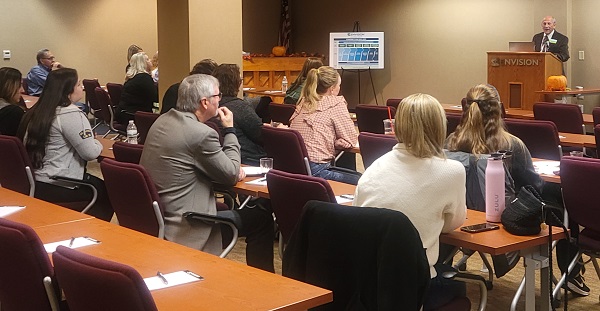 Blog Content
The November Grand Rounds event hosted at Envision had 96 attendees, including 48 that attended via webinar. The event reached people in 22 states, Puerto Rico and Canada. Prior to the presentation, many attendees enjoyed an opening reception and tour of the Envision Vision Rehabilitation Clinic (EVRC).

Stacy Fuller, Senior Director of Rehabilitation Services and Support Programs, moderated the presentation Comprehensive Low Vision Rehabilitation: The Case for a Team Approach, made by the EVRC and the Envision Programs team including Donald C. Fletcher, MD; Celina Litz, COA; Karen Kendrick, OTR/L, CLVT; Andra Mies, COTA; Ray Oddis, COMS; Terese Goren, ATS; Hannah Christenson; Sarah Kephart, MA.

"It's so important to emphasize the full breadth of care that patients can benefit from at Envision," stated Fuller. "This presentation highlighted our multi-disciplinary approach, while continuing our relationships with professionals across the state of Kansas and the nation."

Some of the comments received from participants included:

"I will apply the assistive technology portion of the presentation to all of my students. This was very education and informative."

"The emphasis of the rehab approach and the impact it has on patients made a lasting impression on me."

"Learning more about the role of Occupational Therapy within Envision and learning about the overall process of how patients are referred from the doctor to OT and beyond is critical."

Open House Event Provides Hands-On Tour
Prior to the Grand Rounds, Envision's Vision Rehabilitation Clinic offered tours of the facility where people could experience the assistive technologies and devices.