Focus on Inside Sales Leads to Growth for Envision
By Envision Marketing • May 11, 2022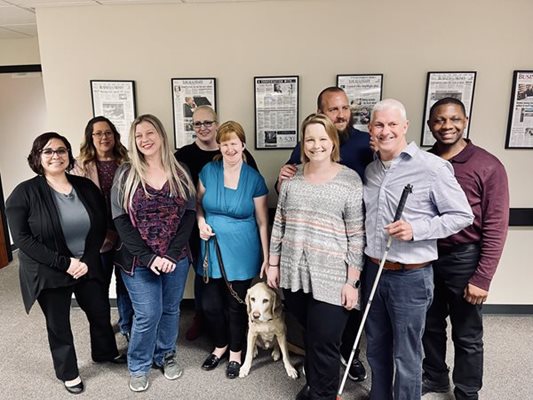 Blog Content
The pandemic taught us many things as an organization. One lesson learned is that we had to adapt the way we handled our sales function. With the lack of traditional trade shows, face-to-face meetings and in-person conferences, the Envision sales team turned inside for expertise. Kathy Vines, Director of Customer Service and Product Administration, has added several people to the team and is focused on customer satisfaction and increasing sales.

Andy Hoffman has been an inside sales representative for ten years and enjoys the focus and growth they are experiencing. "I love seeing our team grow. And our numbers are proof that it is working well," said Hoffman.

The team, along with Kathy Vines, includes Jennifer St. Louis, who was promoted in December to inside sales representative; Andy Hoffman, inside sales representative; Sedrick Veal, recently promoted to customer service representative; Kellie Gerdts, customer service representative; Nick Gasaway, customer service representative; Christy Blaes, discrepancy coordinator; Melody Gomez,who moved from a warehouse position to customer service administrative coordinator; and Clara Nichols, customer service manager.

"By having an Inside Sales Team who conducts consistent outreach to customers, we have benefited from increased sales, and opened up new opportunities with our customers", continued Vines. "We have been able to focus on new opportunities and discuss ways we can help our customers source additional products. Clara, Andy and Jennifer have been instrumental in bringing in new incremental sales opportunities, which helps to offset some of the decline we've seen in core products. We have also implemented email marketing campaigns as a way to increase Envision's visibility within our customer base."

"We have a positive, upbeat department and I believe that is a big part of our success," said Clara Nichols. "The team meets regularly to discuss opportunities, ways to improve and our commitment to customerservice."

By the numbers:
CSR's accurately process 2,000-2,500 orders per month.
Added over 60 new customers this fiscal year.
Brought in 85 new quote opportunities this fiscal year.
Overall 98% customer satisfaction rating for 2021. So far in 2022, we have a 100% rating.
For more information about our sales team, please contact us at sales@envisionus.com.