Evening with Envision 2022 Gala Hyper-Focused on Mission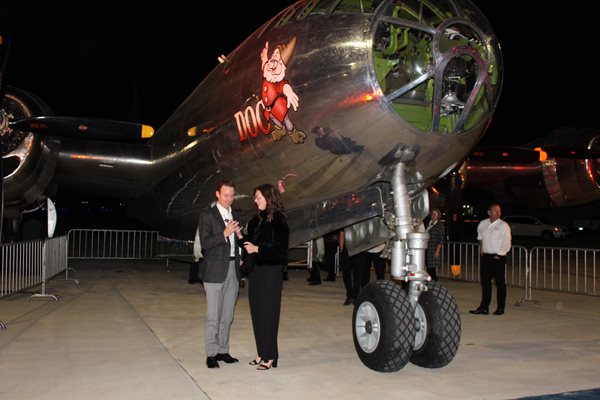 Blog Content
The 2022 Evening with Envision Gala was held Friday, October 7th at the B-29 Doc Hangar in Wichita and was one
of the most successful Gala events to date. The theme for the event was "A Black and White Casual Night." Black and white represents the signature white cane that many people with blindness or visual impairments use to navigate the world around them.

"We wanted everyone to gain a deeper connection to the people that Envision serves," said Noreen Carrocci, Senior VP for Foundation and Mission Services. "We had examples of QR codes and braille which are tools that people with vision loss use to access valuable information. Also, each guest had the opportunity to read story cards featuring people who have benefitted from Envision's programs and services."

The evening was highlighted by two inspirational speakers. Moji and Shane Rosson, who have children with disabilities in the Envision Child Development Center, spoke about their experience with the teachers at the center. "Ms. Teresa and the teachers of the ECDC are a part of our family," said Moji. Our second speaker was Sedrick Veal, an employee at Envision, who shared how he has experienced career advancement during his time at Envision to which he says saved his life.

During the event, two prestigious awards were given to important partners. First, the Spirit of Philanthropy Award was presented to LC Industries Foundation for their generosity and impact they have had this past year.
The second was presented to members of the Advisory Board of Heather's Camp for their tireless commitment to the success of the program and their ongoing support of Envision.

Guests also enjoyed three talented musicians who all have ties to Envision. Charlie Wilks, Envision employee, opened the night with beautiful music that he sang and played on his guitar. Luke Scheibmeir, participant in many Envision youth activities, delighted the audience with dinner music on the piano – much of which he had composed himself. And to round out the night with some fun tunes, Corky Siebert, Envision employee, thrilled us on the piano.

"This year's gala was our most successful to date," said Michael Monteferrante, President and CEO. "So many of our guests commented that it was fun and inspirational. Our goal was to show our guests how grateful we are to them for their ongoing support of the Envision mission. We also were able to raise nearly $500,000 to continue to grow our programs and services."

Save the date for next year's Gala: Thursday, October 5, 2023 at the B-29 Doc Hangar.