ERI Research Fellow Completes Research Study on Augmented Reality in the Field of Low Vision
By Beth Walker • Aug 25, 2023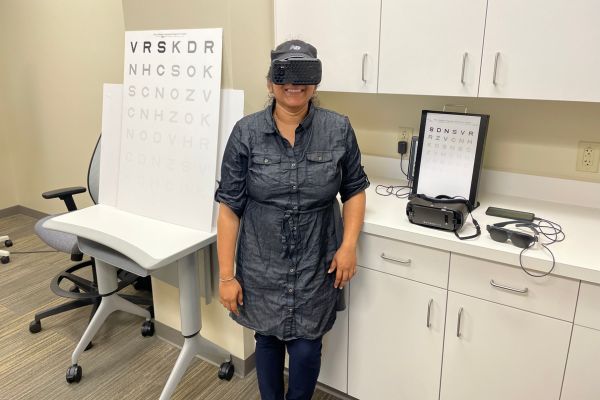 Blog Content
Sarika Gopalakrishnan, PhD FAAO, is a research fellow at the Gigi and Carl Allen Envision Research Institute (ERI). She has worked in the field of low vision for over 15 years and has seen more than 50,000 patients. Originally from Chennai, India, she has founded a Low Vision Care Clinic and a Vision Enhancement Clinic in India, both the first of their kinds to ever be established there.

Her latest research, sponsored by Dave Sharma, compares the effectiveness of three different models of augmented reality devices that aim to improve the functional vision of people with low vision while assisting them in performing daily living activities independently.

With both phases of her research study, "The Role of Head-Mounted Augmented Reality Devices in Improving Visual Function of Individuals," now completed, Gopalakrishnan will be the first person in the world to publish research papers describing and comparing three different augmented reality devices in the field of low vision.

Augmented reality (AR) is defined as an enhanced, interactive version of a real-world environment achieved through digital visual elements, sounds and other graphic stimulation via technology. AR incorporates three features: a combination of digital and physical worlds, interactions made in real time, and accurate 3D identification of real objects.

The first phase of Gopalakrishnan's work was based in the United States and was located at the Envision
Research Institute. It focused on data collection concerning 30 visual tasks and 10 visual functions. Some of these tasks and functions included reading newspapers and menus, reading small print on packaging, recognizing people from across the room, playing card games, and more. Phase one had 28 participants, all of whom are blind or visually impaired.

"I am very lucky to have worked with 28 research participants for the first phase of my study. The average number of participants for a research study of most kinds would usually be very less, but due to the help of ERI and the
Envision Vision Rehabilitation Center (EVRC), I was able to be connected to more potential candidates. I would extend my note of gratitude to Dr. Don Fletcher and his team at EVRC for helping me with adequate participants," said Gopalakrishnan.

The second phase of Gopalakrishnan's work was based in the United Kingdom at the Vision and Eye
Research Institute at Anglia Ruskin University, Cambridge and had a focus on data collection concerning four visual functions and six real life-based tasks. Some of these real-life tasks and functions included identifying currency, visual search tests such as facial recognition tasks, typing on a laptop, reading, and writing tasks. The pilot study in the UK had 10 participants who helped in understanding the differences between various viewing modes of all the three AR devices.

Shahina Pardhan, Director of the Vision and Eye Research Institute at the School of Medicine, Anglia Ruskin University, UK, is Gopalakrishnan's mentor for her research project, and spent the entirety of phase two working with her. Pardhan and Gopalakrishnan first met in India, when Gopalakrishnan was doing data collection for Indo-UK collaboration research projects.

"During the months of June and July at Cambridge, Sarika measured distance visual acuity, near visual acuity, contrast sensitivity, and reading speed," said Pardhan. "This study will be useful in understanding the preference of AR devices when performing real-life activities. It is hoped that, ultimately, her research will greatly benefit people with visual impairments."

Gopalakrishnan is currently working on publishing her research findings, which will be completed within the next six months to a year.

"My goal with the findings of my research is to see these augmented reality devices help anyone who is visually impaired be able to do more tasks that they love and enjoy with one single device, without the limitations sight loss has on those tasks," said Gopalakrishnan. "I want it to be easier for low vision patients to get the catered and personalized care that they need. If we have a basis of a published research recording available to start with, with quantifiers based on specific visual impairments already laid out, it becomes much easier to help each patient. This device, with a tested and proven way of recommendation, can greatly improve the quality of life of someone who is visually impaired in a safe and effective way."

To learn more about ERI, click here for more information.