Envision attends LC Industries Event
By Beth Walker • Apr 24, 2023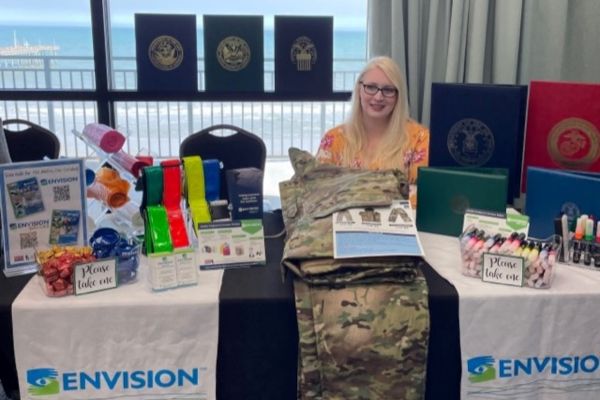 Blog Content
LC Industries, one of Envision's valued partners and an AbilityOne sister-agency, held their annual Leadership Meetings and Vendor Fair on March 22-24 in Myrtle Beach, South Carolina. With over 150 attendees, this was the first big event that LC Industries has held since the start of the Covid-19 pandemic. Envision was invited to participate in their Vendor Fair to highlight our AbilityOne manufactured products. Buddy Sell, Senior VP of Operations, Kathy Vines, Director of Customer Service and Product Administration, and Jennifer St. Louis, Inside Sales Representative were in attendance to meet and network with LCI's Corporate and Base Supply Store management personnel.

At the Vendor fair booth, Envision products, made by people who are blind or low vision, were displayed - including trash bags, high visibility belts, business cards, military branded retirement and award binders, and markers/highlighters. New cold weather gear items (jackets and pants), available from our Envision Xpress store were also showcased.


"Having the opportunity to spend time connecting with the LCI buyers and managers in person was invaluable, and very much appreciated. LCI is a valued partner to Envision, and we appreciate the opportunity to network with them one-on-one", stated Buddy Sell.

Jennifer St. Louis, Envision's Inside Sales Representative started her career at Dallas Lighthouse for the Blind in 2008 on the manufacturing floor. She transitioned to a Customer Service role at Dallas Lighthouse for the Blind in 2016. When Envision purchased the Dallas Lighthouse facility and became Envision Dallas, Jennifer moved to Wichita to continue her role in Customer Service. She was promoted to Inside Sales Representative in December of 2021. Jennifer, who is visually impaired, had never had the opportunity to visit the ocean before.

"One of my favorite memories from the trip was watching Jennifer experience the sand and the ocean for the first time. Getting to experience that with her was amazing!" said Vines. "I also really enjoyed meeting Nichole Chilton, LCI's buyer – and one of our favorite customers to work with!"

Envision is thankful to LC Industries for their continued support and partnership with Envision. We enjoyed the trip immensely and look forward to participating again next year.