Working for Envision gives Laridda Williams-Murphy personal and professional fulfillment.
"I love working for a company that strives to provide employment, research, programs and services to people who are blind or visually impaired," said Williams-Murphy, who has worked for Envision in various capacities since 2015.
Laridda has been visually impaired since birth as a result of her retinas never fully developing. Employment at Envision has presented her with opportunities to learn and enhance her skills by working in three different Envision departments.
Williams-Murphy spent a year at Envision Industries, gaining hands-on experience and learning about the various products made by people who are blind or visually impaired that are manufactured to fulfill contracts for the federal government and other organizations. In 2016, she transitioned to the Envision Childhood Development Center, working there for eight years until March of 2023 when she became a Customer Care Specialist within Envision's Interface Call Center.
"I'm a true example of upward mobility," Williams-Murphy says. "If you strive forward and keep trying, there are definitely opportunities within Envision." She has only good things to say about Envision and all the programs and services it offers to help others like her. "I love Envision overall," says Williams-Murphy. "I love what the organization stands for. I feel like I have grown here. I started out quiet and timid, but not anymore. I love the opportunity to grow and build."
Williams-Murphy moved to Wichita from Topeka in 2015. She wanted to try something new after working for a Topeka-area school district for three years. She was a paraprofessional, braille specialist and assistive technology teacher for fourth through sixth graders. She says working in Envision's Childhood Development Center reignited her passion for helping children, and she still enjoys assisting children who are blind or visually impaired helping them navigate challenges and realize their potential. "Working in that department definitely meant a lot to me," Williams-Murphy says. "I'm glad I was able to be part of that success."
Now, she has shifted her focus toward assistive technology. Williams-Murphy will be working to obtain her assistive technology certification through the World Services for the Blind school, an organization whose mission, like Envision, is to empower people who are blind or visually impaired. "To have that certification may allow more doors to open for me within Envision," she says. "Kids and technology have been my passion for a long time."
Laridda also participates in the Envision Arts Program, and has displayed her work at the Envision Arts Gallery in a prior exhibit titled Golden Repair, which honored Black History Month.
You can take the next steps toward personal and professional growth at Envision just like Laridda did. Join Envision today and seize the opportunities to build a fulfilling career while making a positive impact. To learn more about our job opportunities, click here for more information.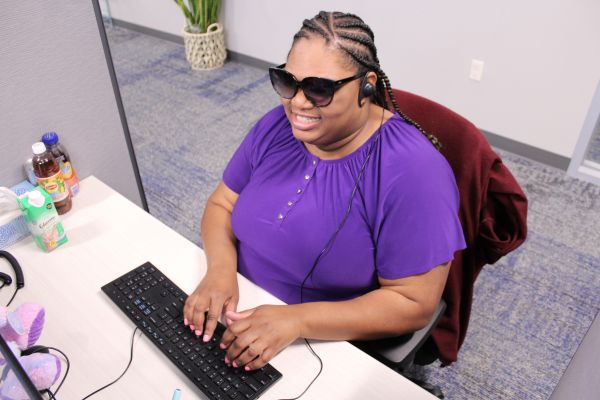 "I'm a true example of upward mobility. If you strive forward and keep trying, there are definitely opportunities within Envision."