Sisters-in-Law Receive Life-Changing Help
Becky Smith started to lose her vision around two years ago with her macular degeneration diagnosis. She couldn't help but to feel anxious even though she spent 50 years of her life with her late husband who was visually impaired. She began having trouble with two of her favorite pastimes: reading and making jewelry for antique dolls. Her optometrist referred her to Envision Vision Rehabilitation Center in Wichita, and when she reached out, she was greeted with kindness and encouragement.
Becky recalled how everyone she talked with was so helpful and gave her hope for the future. Hope for the independence she cherished for most of her life. She said, "Honestly, I used to be very active. I read books, drove myself and cooked all the time. Then I had to hand my keys over to my son and move in with my daughter. One day you're driving, and then next you're just not."
Through her therapy at the EVRC, she met with multiple people for various services. She met with Karen Kendrick who showed her how to many different things that helped her to be more independent. Terese Goren helped her download an app that she uses to identify objects and people. Andra showed her different ways to use her laptop and installed helpful buttons on all her appliances. Ray showed her how to use her white cane – she was so excited.
"I can't even begin to explain how amazing my experience at Envision has been. It's changed my life and I know it will continue to do so as I get involved with more programs like book club and art," said Becky.
She was so pleased with her time at Envision that she had to immediately call her friend and sister-in-law, Karen Durham, who was struggling with her vision for even longer than Becky had. Becky told Karen she had to get involved and see Dr. Fletcher. Karen did just that and now says that she's never been happier.
"I'm so thankful for Envision. Everyone was so helpful. The magnifying glass has changed my life. I can read my own mail now and that is so comforting. I didn't like relying on my aide to read my own mail – that is none of her business," said Karen.
Karen continued: "Anyone I know who has vision issues, I tell them to check out Envision because maybe they can help. I tell everyone!"
Would you or a family member benefit from vision rehabilitation services? Please visit envisionus.com/bicknell-envision-vision-rehabilitation-center or more information and to contact us.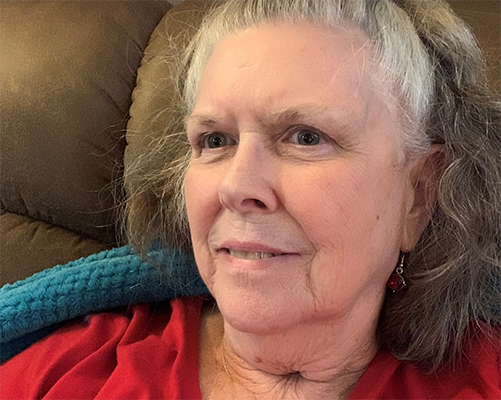 ---