The Envision Arts Gallery Welcomes Internationally Recognized Painter John Bramblitt Who is Blind
By Holly Herring • Aug 22, 2022
Blog Content
The Envision Arts Gallery Welcomes Internationally Recognized Painter John Bramblitt Who is Blind

The Fourth Exhibition for the Envision Arts Gallery and Community Engagement Center Opens in September and is Expected to Draw a Crowd with Unique Multi-Sensory Experiences

WICHITA, Kan. (August 22, 2022) — A new exhibit titled, Tactile Emotions, featuring internationally recognized blind painter, John Bramblitt, will open at the Envision Arts Gallery and Community Engagement Center on Friday, September 2nd in downtown Wichita, Kansas during a free and public opening reception event from 5-9 p.m. Throughout the evening, gallery visitors can meet Bramblitt, experience his artwork, participate in art activities inspired by his creations, and enjoy a live musical performance by Charlie Wilks, who is also blind. The day after the opening reception, the Envision Arts Gallery will hold a free limited-space multi-sensory art workshop hosted by Bramblitt.

Bramblitt is an artist living in Denton, Texas who has sold artwork in over 120 countries. According to his bio on his website, he has appeared internationally in multiple print, TV and radio including, Evening News with Katie Couric, ABC, NBC, FOX, Discovery Channel, and BBC Radio and TV. He has also been featured in The New York Times and Psychology Today as well as designed the artwork for numerous magazine covers and even the artwork for major film productions. His work has received much recognition including the 'Most Inspirational Video of 2008′ from YouTube and three Presidential Service Awards for his innovative art workshops.

"I am really excited to exhibit at the Envision Arts Gallery with a show that is all-inclusive and meant for the entire community," said John Bramblitt. "As a person with a visual impairment, I know firsthand how difficult it can be to enjoy 2D art such as paintings in a typical gallery setting. In this show, the experience is far from typical as we celebrate the idea of touching all the artwork, and people using all their senses. I hope that this exhibit and the workshops will encourage everyone in the community to come out and get a new perspective on how we all experience art. This exhibit could only be possible through Envision, and their dedication to providing inspiration and awareness for the visually impaired community."

Bramblitt lost the last of his vision in 2001 due to complications with epilepsy and Lyme's disease. He had to let go of his dream of becoming a creative writing teacher and figure out how to adjust to his new normal. On his website, he explains how he sunk into a deep depression where he felt disconnected from his friends and family. Eventually, he discovered painting and taught himself to paint using raised lines in order to navigate the canvas and distinguish colors by feeling the textures.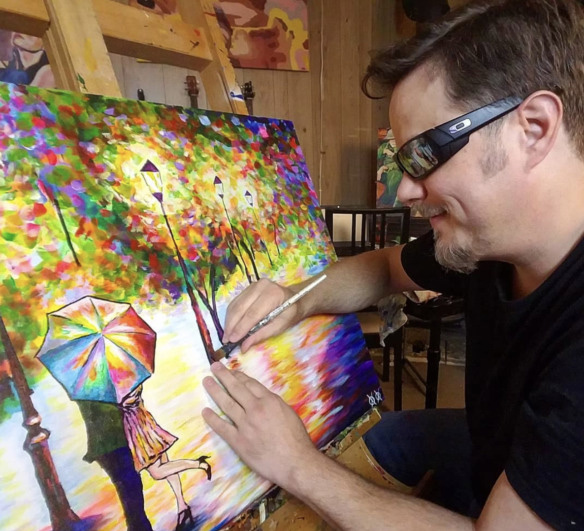 "John Bramblitt's exhibition, Tactile Emotions, is a defining moment in the history of the Envision Arts Gallery as well as for the Wichita community, as his artwork brings attention to our commitment to empowering artists and audiences who are blind, visually impaired and disabled with a space dedicated to the visual, performing and literary arts," said Sarah Kephart, Envision Arts Program and Gallery Manager. "Wichitans will have a once-in-a-lifetime opportunity to meet John, experience his artwork through touch, and will learn more about his life and techniques as an artist who is blind in a multi-sensory workshop that is free and open to our community!"

The Envision Arts Gallery will host a Multi-Sensory Art Workshop with John Bramblitt on Saturday, September 3rd from 10:00 a.m. to 11:30 a.m. where seating is limited and registration is required. The workshop is free with a suggested donation of $10. Workshops attendees will experience a variety of art exercises that engage all five senses. During the painting portion, participants are blindfolded and given pre-mixed paints with different textures to use on their canvas with raised lines. Later in the year, the Envision Arts Gallery and Bramblitt will invite guests to attend an exclusive virtual Q&A session and will host an Evening with John Bramblitt an Envision Arts in the Dark fundraising event.

All proceeds from artwork and merchandise purchased from the gallery directly support the artists and helps the Envision Arts program.

Learn more about the Envision Arts Gallery and Community Engagement Center by visiting envisionartsgallery.com or by calling (316) 440-1699.


###


About the Envision Arts Gallery and Community Engagement Center: The year-round Envision Arts program has been using expressive arts to help foster mind, body and spirit healing through multidimensional and sensory art for many years within Envision headquarters on Main St. in Wichita, Kanas. Envision, the nation's premier service provider to and employer of individuals who are blind or visually impaired, opened the permanent art gallery in January 2022. The Gallery has continued the momentum of the program and aims to empower artists and audiences who are blind, visually impaired, and disabled by providing a safe and supportive platform to exhibit and engage to promote a culture of inclusion and accessibility to the arts for all. The Gallery is located in the old Patrick Hotel building in downtown Wichita's Historic Union Station area at 801 East Douglas, Suite 106, managed and owned by Occidental Management. For more information, visit www.envisionartsgallery.com.

About Envision: Envision promotes advocacy and independence for those who are blind or have low vision. Founded in 1933, Envision is one of the largest employers of individuals with vision loss in the nation. Headquartered in Wichita, Kansas, Envision's mission is to improve the quality of life and provide inspiration and opportunity for people who are blind or visually impaired through employment, outreach, rehabilitation, education, and research. For more information, visit www.envisionus.com.

Media Contact: Holly Herring, Marketing Manager
Office: 316-440-1531 | Email: media@envisionus.com