Ten Minutes With Karyn Page
By Envision Marketing • Dec 17, 2021
Blog Content
Ten Minutes With ... Karyn Page, Envision

By Daniel McCoy – Reporter, Wichita Business Journal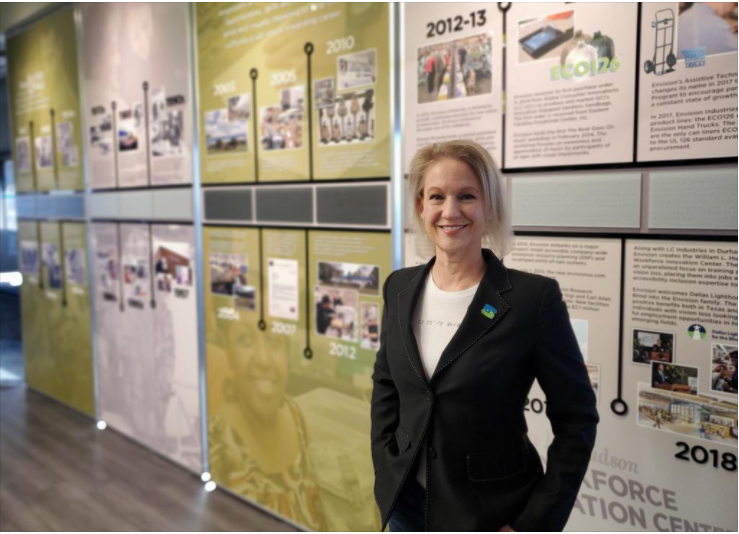 Karyn Page spent more than 15 years promoting Wichita on an international stage as the head of Kansas Global Trade Services. In June, she left that organization to become vice president of innovation at Envision Inc., a Wichita-based nonprofit that provides employment opportunities and other services for the blind and visually impaired.

While the missions of the organization are different, Page says there are more similarities than people might think in the roles. Now, she is exporting the knowledge of just what Envision can bring to the table at a time when employers need to find good employees more than ever.

How did your experience in global trade help you in your new role with Envision? It is a different mission, but the complexities of the ecosystem, and skills needed to manage systems and relationships with many stakeholders are the same. Two examples: I spent a good part of my career in international trade educating and messaging on the merits of trade to companies and communities. But I've always started with addressing the fear of trade. It's no different talking to companies about employing professionals who are blind or visually impaired. It seems daunting, expensive, and just plain "hard." But it's not — once you have a guide to help you.

Second, education and conversation in a safe environment is key. What is the regulatory environment? What about societal rules? What questions can I ask? Who do I ask? What does it feel like to work with someone who is blind or low vision? Can they use computers? What company changes should we make to be more accessible? We offer a corporate training session that covers all these topics and teaches you how to be a sighted guide ... it's practical training. It contributes to trusted teamwork. And it speaks to diversity and inclusion initiatives.

Read the full article by clicking here.