New SENSES Art Exhibition Will Bring to Light Creativity and Stories from Artists with Disabilities
By Holly Herring • May 26, 2022
Blog Content
SENSES Community and Youth Arts Exhibition to Open June 3rd Bringing to Light Creativity and Stories from Artists with Varying Disabilities

Third Exhibition for the Envision Arts Gallery and Community Engagement Center Opens with Artwork from Various Community Disability Organizations

WICHITA, Kan. (May 26, 2022) — The SENSES Community and Youth Arts Exhibition, featuring artwork created by individuals of all ages with physical, cognitive, visual or hearing disabilities, will open at the Envision Arts Gallery and Community Engagement Center on June 3 in downtown Wichita, Kansas. Envision, the nation's premier service provider to and employer of individuals who are blind or visually impaired, opened the permanent art gallery in January 2022 and was recently featured in Midwest Living Magazine's top summer picks list.

The SENSES Community and Youth Arts Exhibition highlights various artists from different community disability organizations and works created by the Envision Arts After School Art Club and the children of the Cathy G. Hudson Envision Child Development Center (ECDC). Organizations involved include Looking Glass Day Services, Heartspring, Down Syndrome Society of Wichita and Envision's PRIDE group. The theme, "SENSES," was developed to showcase how we experience, navigate and understand the world through all of our senses in the form of two-dimensional, three-dimensional, video, photography, music, performance-based and literary artwork.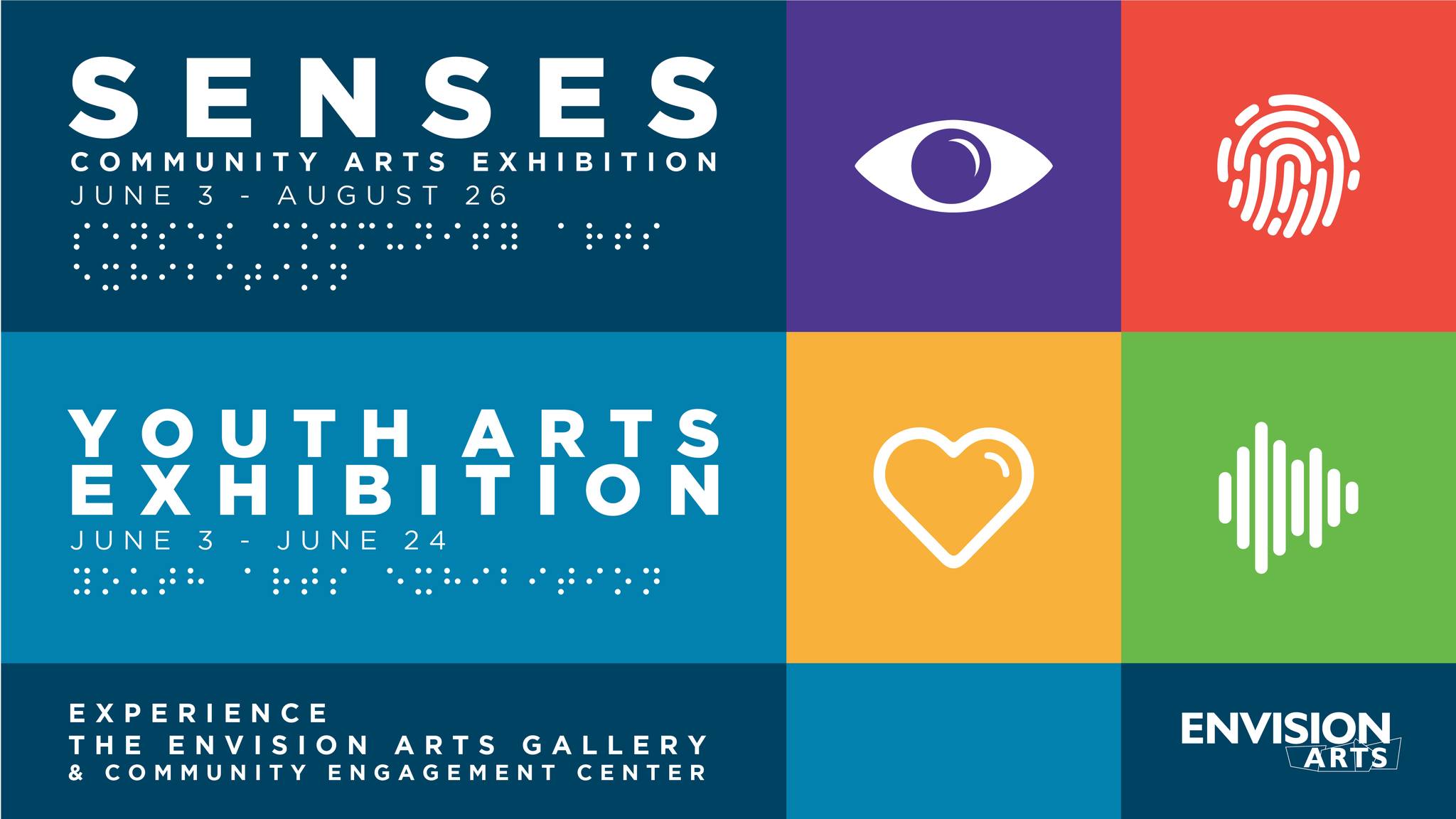 "We all need the same things. We all need structure; some people need more. We all need support; some people need more. And we all need creative, valid ways to express ourselves," said Julie Noller, Coordinator of Special Projects at Heartspring. "Having a space designed to show off and welcome artists of all abilities is a true gift to our community!"

Artwork on display includes:
Artist Andy Gates' piece titled, Beautiful Mind, features high contrasting numbers drawn in white paint on a black background depicting complex mathematical equations. Row after row, Gates solves one problem after the next with great speed and confidence resulting in a design that is both harmonizing and energizing using repetition of color and subject matter.
Woodcarver Ron Davidson of North Carolina is an artist who is totally blind and created a textured technique similar to braille to depict variations in materials, surfaces and depth. His piece titled, Willie Nelson, is a 13" x 18" portrait of the famous American musician, actor and activist, who just so happens to be headlining the Wichita River Festival performing on June 4th.
15 individuals from Heartspring created three sets of art pieces. One titled, Hidden Stars Among Us, is a collaborative mixed media collage using tissue paper in a range of colors. The second Heartspring collection is titled, The Feel of Spring, where individuals used fabric in shades of blue, green, red and yellow to create collages inspired by Spring. The third is a collaborative acrylic resin sculpture that is inspired by American glass artist, Dale Chihuly.
SENSES will be open to the public June 3 through August 26. A free and public opening reception event will be Friday, June 3, from 5 p.m. to 9 p.m. at 801 East Douglas, Suite 106, Wichita, Kansas. Throughout the evening gallery visitors can meet the artists, experience their artwork and participate in art activities inspired by their creations.

"Our goal with the SENSES community and youth exhibit is to let people know that regardless of where you live, we want to engage with you, and if possible, connect your artistic visions with our audience. As a note to those who feel that they can no longer create or attempt to be creative, explore different materials, or explore one's imaginative spirit due to vision loss or blindness, I am here to say that this is simply not true," said Sarah Kephart, Envision Arts Program and Gallery Manager.

As the gallery space rotates throughout the year, the exclusive exhibits will host a variety of groups and artists focusing on those with disabilities including nationally renowned BVI artist John Bramblitt, whose art has been sold in over 100 countries around the world. An exhibition dedicated to Bramblitt will be available in September of this year and will feature an artist talk presentation, a multi-sensory painting workshop, an exclusive virtual Q&A session, a fundraising event, and more to be announced in the near future.

All proceeds from artwork and merchandise purchased from the gallery directly support the artists and helps the Envision Arts program. Learn more about the Envision Arts Gallery and Community Engagement Center by visiting envisionartsgallery.com or by calling (316) 440-1699.

The Envision Arts Gallery and Community Engagement Center is in the old Patrick Hotel building in downtown Wichita's Historic Union Station area at 801 East Douglas, Suite 106, managed and owned by Occidental Management.

About the Envision Arts Gallery and Community Engagement Center: The year-round Envision Arts program has been using expressive arts to help foster mind, body and spirit healing through multidimensional and sensory art for many years within Envision headquarters on Main St. in Wichita, Kanas. The Envision Arts Gallery has continued the momentum of the program and aims to empower artists and audiences who are blind, visually impaired, and disabled by providing a safe and supportive platform to exhibit, perform and engage to promote a culture of inclusion and accessibility to the arts for all. For more information, visit www.envisionartsgallery.com.

About Envision: Envision promotes advocacy and independence for those who are blind or have low vision. Founded in 1933, Envision is one of the largest employers of individuals with vision loss in the nation. Headquartered in Wichita, Kansas, Envision's mission is to improve the quality of life and provide inspiration and opportunity for people who are blind or visually impaired through employment, outreach, rehabilitation, education, and research. For more information, visit www.envisionus.com.

Media Contact: Holly Herring, Marketing Manager
Office: 316-440-1531 | Email: media@envisionus.com