Envision Dallas Receives $2 Million Mabee Foundation Challenge Grant for Expansion
By Holly Herring • Oct 26, 2022
Blog Content
Largest Employer of People Who Are Blind and Visually Impaired in North Texas Receives $2 Million Mabee Foundation Challenge Grant for Expansion

Support for Envision Dallas's capital campaign will help to consolidate programs and services into one centralized location and create more employment opportunities for people with low vision in North Texas

DALLAS, TEXAS (October 26, 2022) — Envision Dallas continues the momentum of its recently launched capital campaign by receiving a $2 million challenge grant from the J.E. & L.E. Mabee Foundation. The funds will be used to renovate a new facility to help fulfill the needs of more than 150,000 North Texans who are experiencing vision loss and a lack of services available to them. As one of the largest service providers to, and employers of, people who are blind or visually impaired in Texas, Envision Dallas aims to provide life-changing opportunities to a population that is often overlooked. An additional $6,754,000 will need to be raised by October 11, 2023, in order for Envision Dallas to receive the Mabee Foundation grant funds.

The Mabee Foundation issues challenge grants to both require and inspire widespread public support and act as a catalyst to assist grantees in reaching their fundraising goals. Envision Dallas's $15 million capital campaign initiative will establish a new state-of-the art center in Farmers Branch, a suburb of Dallas, focused on increasing manufacturing and knowledge-based employment opportunities as well as promoting access to resources key to independent living for people with vision loss. The LC Industries Foundation, who has long supported Envision's mission, kickstarted the capital campaign with a $6 million gift this past summer, the largest donation in Envision's history.

"The gift from the Mabee Foundation helps us reach a significant milestone in our capital campaign and we are incredibly grateful for the donors who have supported us already," said David Stupay, managing director of Envision Dallas. "Envision Dallas proudly employs nearly 150 people who are blind or visually impaired and provides more than 3,000 others with crucial services each year. But we know there are thousands more who would benefit from our services and employment. We are encouraged by support to help us expand our facilities and we look forward to attracting additional donor partners."

Envision the Possibilities, a campaign for Envision Dallas, will be dedicated to relocating the current Dallas operations to a new 210,000-square-foot campus in Farmers Branch that is conveniently located which helps increase accessibility to clients and employees who are blind or visually impaired. The new campus will nearly double its current size and allow for growth of Envision Dallas' employment, educational and rehabilitation services. Once completed by December 2023, the new facility is expected to create up to 200 new job opportunities for individuals who are blind or visually impaired over the next three years and includes:

Providing manufacturing space, equipment and technology to accommodate long-term growth plans and create 200 new jobs for people who are BVI.
Implementing the Envision Dallas William L. Hudson BVI Workforce Innovation Center that helps ready individuals who are BVI for knowledge-based jobs provides accessibility inclusion expertise to businesses.
Expanding the Gigi and Carl Allen Family Rehabilitation Center serving all ages with vital therapy, training and support.
Launching a variety of life-changing programs including college readiness and a vibrant art program for all ages to provide support, community and connections.
Growing to a 100-seat call center which includes the employment of people who are blind as well as typically sighted to serve as customer service agents for businesses.
Opening the Cathy G. Hudson Envision Child Development Center that will offer comprehensive and inclusive learning experiences and support for children who are BVI or sighted and their families.
Conducting groundbreaking research at the Envision Research Institute with the goal of removing the barriers for people with blindness or low vision.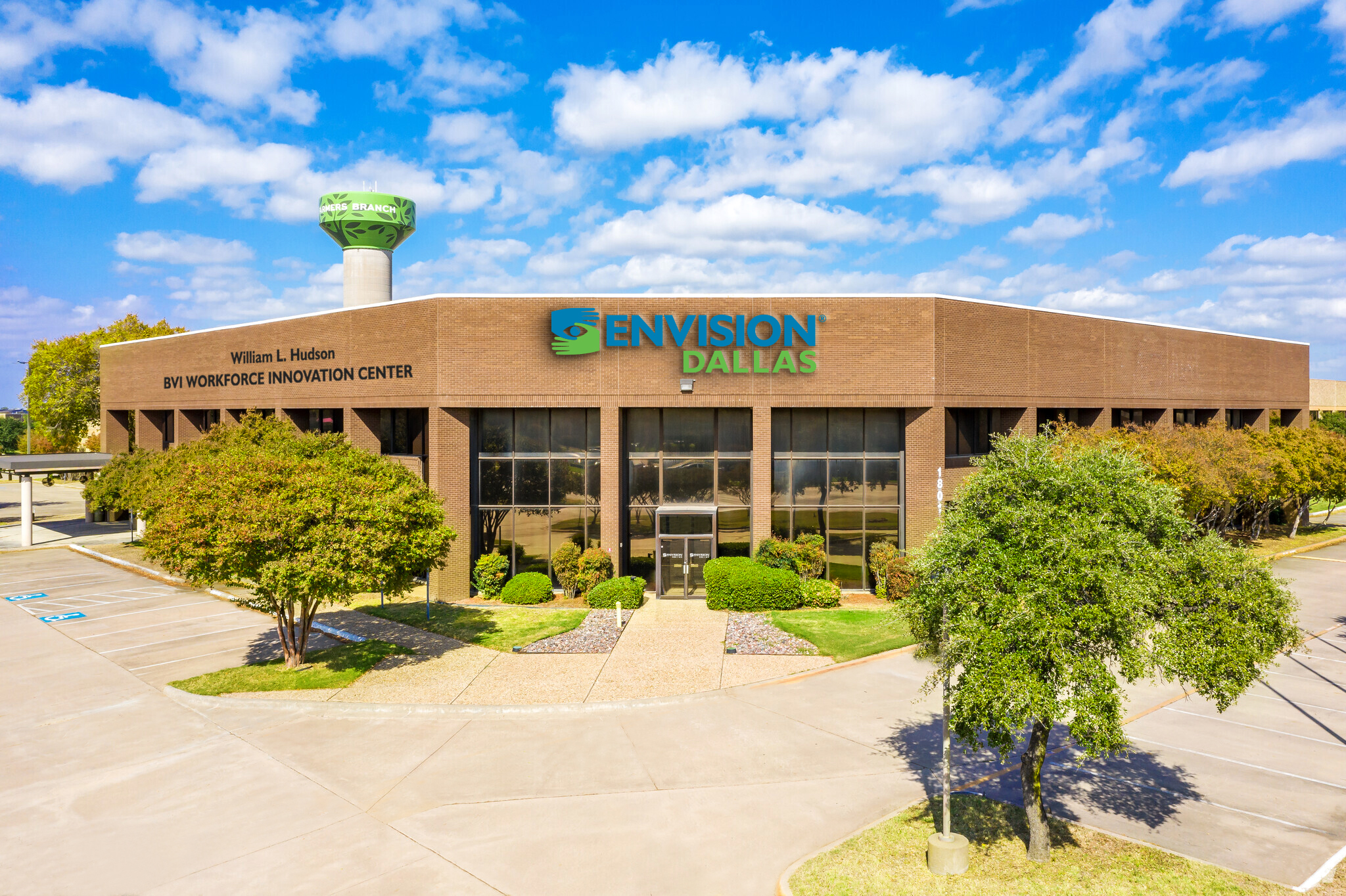 "The support of Envision Dallas is inspiring, and we are eager about the growth and the opportunities we will be able to provide for many people in North Texas," said Michael Monteferrante, president and CEO of Wichita, Kansas-based Envision, which acquired the former Dallas Lighthouse for the Blind in 2018. "We've seen first-hand at our Envision headquarters the impact the William L. Hudson BVI Workforce Innovation Center and the Cathy G. Hudson Envision Child Development Center have made on the lives of the visually impaired and are eager to transform the landscape of employment and independence for people with vision loss across North Texas."

Since its acquisition in 2018, Envision Dallas has taken strategic steps to expand and enhance its operations in North Texas by adding more products and job opportunities in manufacturing, and new clients and more positions in the Envision Interface contact center. In addition, Envision Dallas welcomed Dr. Carolyn Carman with VisionMAX, a specialty low vision clinic located within Envision Dallas, as well as renovated the American Foundation for the Blind Center on Vision Loss and Esther's Place, a model apartment designed to help individuals who are blind or visually impaired gain higher levels of independence in a home setting.

For more information and to get involved with the capital campaign, please visit our Envision the Possibilities website.

About Envision Dallas: Envision Dallas, formerly the Dallas Lighthouse for the Blind, is an innovator in the North Texas community, striving to offer meaningful employment opportunities and resources to more than 150,000 individuals who are blind or visually impaired living in Collin, Cooke, Dallas, Denton, Ellis, Fannin, Grayson, Hunt, Kaufman, Navarro and Rockwall counties. Envision, headquartered in Wichita, Kan., added Envision Dallas to its family in 2018. Envision's mission is to improve the quality of life and provide inspiration and opportunity for people who are blind or visually impaired through employment, outreach, rehabilitation, education and research. For more information, visit www.envisionus.com. Follow us on Facebook, Twitter, Instagram and LinkedIn.

Media Contact: Holly Herring, Marketing Manager
Office: 316-440-1531 | Email: media@envisionus.com