Envision Arts Gallery and Community Engagement Center
The Envision Arts Gallery & Community Engagement Center is proud to present two solo exhibitions to take place throughout April and May. 𝗪𝗵𝗲𝗿𝗲 𝘁𝗵𝗲 𝗦𝗸𝘆 𝗧𝗼𝘂𝗰𝗵𝗲𝘀 𝘁𝗵𝗲 𝗦𝗲𝗮 featuring:

𝙈𝙚𝙢𝙤𝙧𝙮 𝙤𝙛 𝙒𝙖𝙫𝙚𝙨 𝗯𝘆 𝗘𝗿𝗶𝗰𝗮 𝗝𝗼𝗵𝗻𝘀𝗼𝗻
Experience Erica's first solo exhibition which features ceramic artwork shown in the Patricia A. Peer Window Gallery.

"Prior to my visual impairment, I have memories of waves. I love water in the ocean. And, just like my life, the ocean is sometimes unpredictable. Yet, I'm on a new journey, moving forward, just as the ocean carries ships to new beginnings and opportunities."

𝙁𝙪𝙨𝙞𝙤𝙣 𝗯𝘆 𝗧𝗼𝗺𝗶𝘆𝗼 𝗧𝗮𝗷𝗶𝗿𝗶
Engage with this retrospective exhibition spanning over 10 years of artistic creation featuring ceramic, washi paper installations, and more in the Main Exhibition Hall.

"Touching and feeling art is healing, and I want to create more healing through art."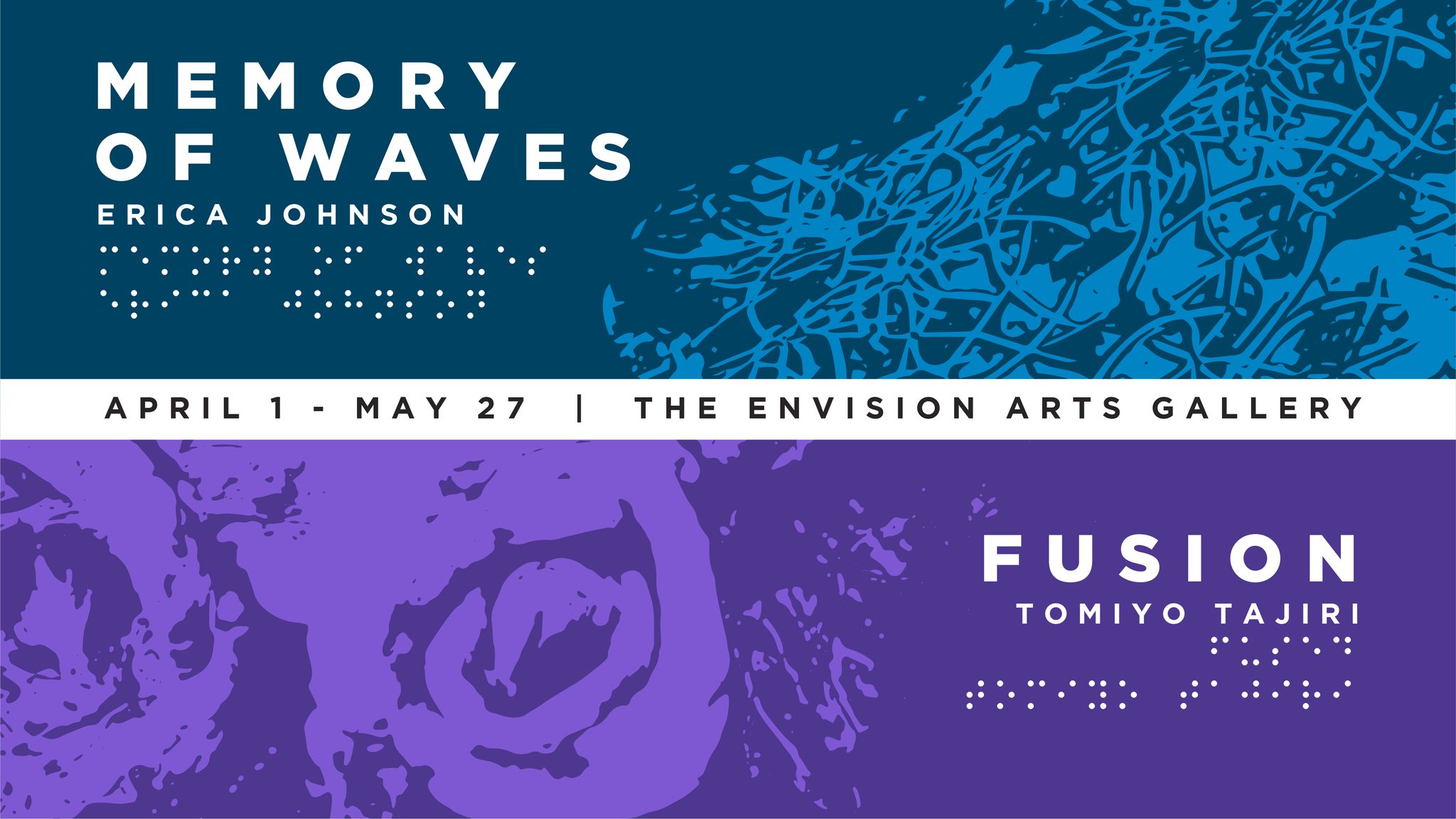 Throughout the evening you can meet the artists, experience their artwork, and participate in art activities inspired by their creations.

𝗢𝗽𝗲𝗻𝗶𝗻𝗴 𝗥𝗲𝗰𝗲𝗽𝘁𝗶𝗼𝗻
𝗙𝗿𝗶𝗱𝗮𝘆, 𝗔𝗽𝗿𝗶𝗹 𝟭
𝟱:𝟬𝟬 - 𝟵:𝟬𝟬 𝗣𝗠
801 E. Douglas Ave, Suite 106
Wichita, Kansas 67202
Free and open to the public

𝗘𝘅𝗵𝗶𝗯𝗶𝘁 𝗢𝗽𝗲𝗻 𝗔𝗽𝗿𝗶𝗹 𝟭 – 𝗠𝗮𝘆 𝟮𝟳
Join us at the Historic Union Station in Downtown Wichita to celebrate the opening of these unique exhibitions.

𝘄𝘄𝘄.𝗘𝗻𝘃𝗶𝘀𝗶𝗼𝗻𝗔𝗿𝘁𝘀𝗚𝗮𝗹𝗹𝗲𝗿𝘆.𝗰𝗼𝗺