801 E. Douglas Ave, Suite 106, Wichita, Kansas 67202
Join us for First Friday at the Envision Arts Gallery from 5:00 - 9:00 PM to celebrate the closing of this unique exhibition.
Throughout the evening you can meet the artist, experience their artwork and participate in art activities.
+ LIVE MUSIC from Charlie Wilks
First Friday, November 4
5:00 - 9:00 PM
801 E. Douglas Ave, Suite 106
Wichita, Kansas 67202
Free and open to the public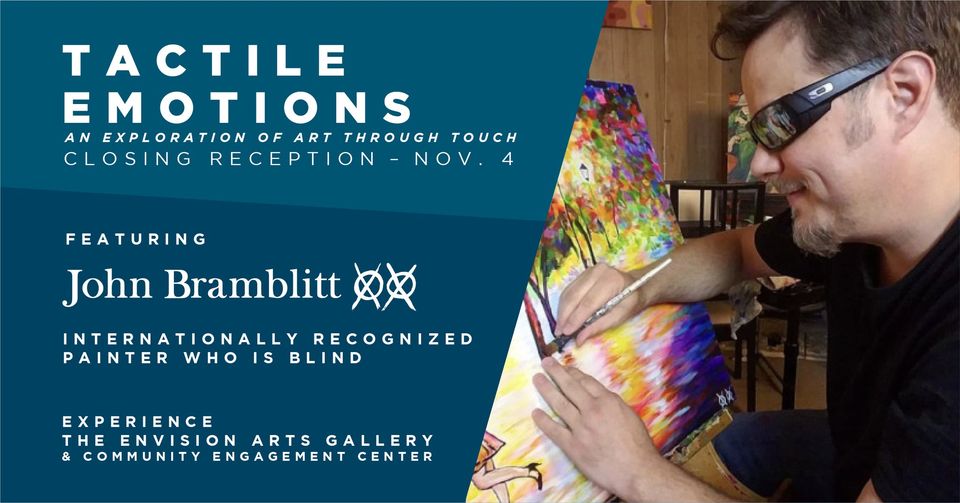 Closing Reception for Tactile Emotions by John Bramblitt, Internationally Recognized Painter Who is Blind.
John Bramblitt is an artist living in Denton Texas, his art has been sold in over one hundred and twenty countries and he has appeared internationally in print, TV and radio. He has appeared on CBS Evening News with Katie Couric, ABC, NBC, FOX, Discovery Channel and BBC Radio and TV to name a few outlets, and he's been featured in The New York Times and Psychology Today as well as designed the artwork for numerous magazine covers and even the artwork for major film productions. He's the subject of the award-winning documentary shorts "Line of Sight' and "Bramblitt." And John is blind.
While art was always a major part of John's life it was not until he lost his sight in 2001 that he began to paint, and it was then that he says, "Art reshaped my life." John's paintings are intensely personal, and are mostly taken from real people and events in his life. John's workshops are unique in the art world in that they not only span the gap between beginning and professional artists, but also include adaptive techniques for people with disabilities. According to John, "Everyone has an artist somewhere in them; sometimes they just need a little help letting it out.
Learn more about John:
www.Bramblitt.com