801 E. Douglas Ave, Suite 106, Wichita, Kansas 67202
Join us for First Friday at the Envision Arts Gallery on July 1 from 5:00 - 9:00 PM.
The Envision Arts Gallery & Community Engagement Center is proud to present a new solo exhibition in the Patricia A. Peer Window Gallery.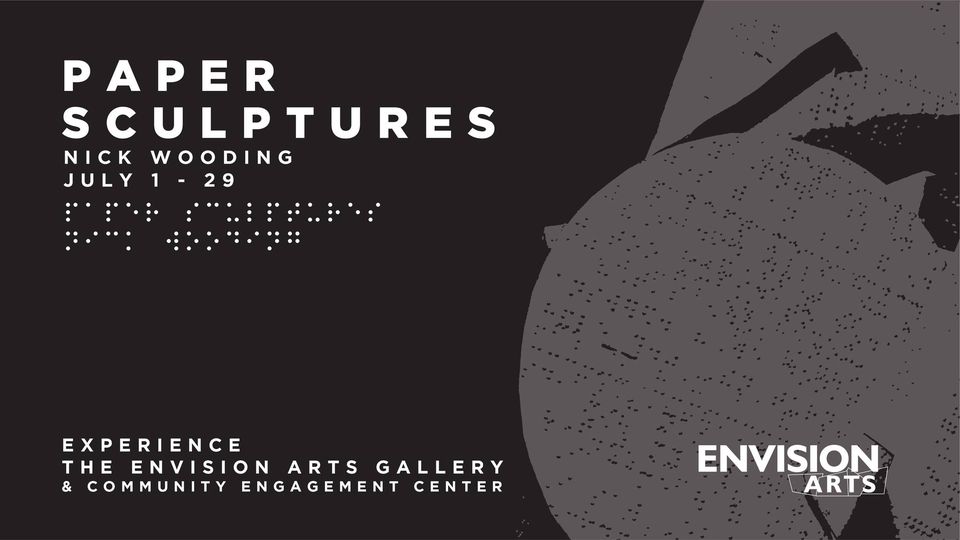 Experience Nick Wooding's first solo exhibition
Paper Sculptures
which features his elaborate multimedia sculptures made with braille paper.
Nick grew up attending the Maize school system in Kansas, and then later went on to study at the Helen Keller National Center on Long Island in New York due to his vision and hearing loss. To advance his independence and confidence, his family knew that the Helen Keller School would assist in advancing his studies in Braille and American Sign Language (ASL). During his time there, a teacher introduced him to creating sculptural forms with construction paper and a stapler. Nick joined the Envision Arts program in 2016 and has pushed the boundaries of his sculptural work using new mediums and techniques that captivate viewers by the way he manipulates space with paper and mixed media materials.
Nick has a permanent art installation at 86 Cold Press at 600 E Douglas in Downtown Wichita, Kansas, where a grid of nine geometric sculptures out of Braille paper is mounted on 12" square boards.
Join us in Downtown Wichita to celebrate the opening of this unique exhibition. Throughout the evening you can meet the artist, experience their artwork and participate in art activities.
First Friday, July 1
5:00 - 9:00 PM
801 E. Douglas Ave, Suite 106
Wichita, Kansas 67202
Free and open to the public
Exhibition open July 1 – 29
Learn more about us at:
www.EnvisionArtsGallery.com