Envision and Liquid Art Winery
Envision, one of the nation's largest employers of and service providers for people who are blind or visually impaired (BVI), and Liquid Art Winery have formed a partnership that focuses on the strength, independence and creative potential of people who are BVI.
Envision, headquartered in Wichita, Kansas, has led an impactful Envision Arts program, as well as the Envision Arts Gallery, that embraces therapeutic self-discovery through expressive arts for those who are BVI. Through this collaboration, Envision and Liquid Art Winery aim to enrich and support the lives of those who are blind or visually impaired so they can thrive.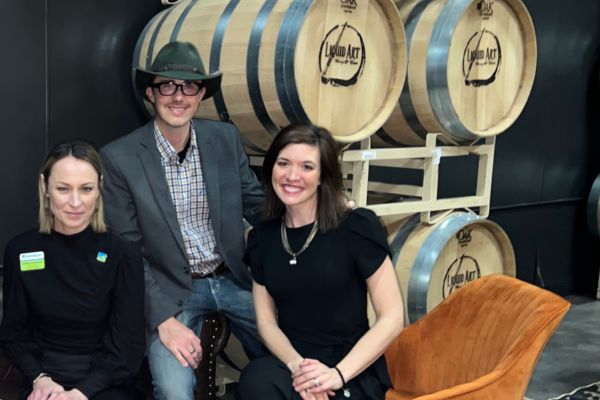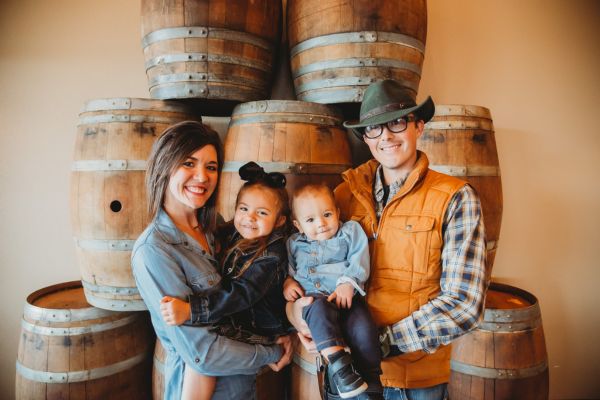 Meet the Tegtmeier Family
Liquid Art Winery co-owner Dave Tegtmeier lost his sight for a time due to an incident in 2018, and he learned to utilize all his senses to craft premium wines using sustainable viticulture techniques. The Tegtmeier family learned about Envision through this incident, and David has since regained some vision due to the amazing advancements in the technology available today.
The Tegtmeier's experience with blindness and visual impairment has made them strong advocates for Envision. Now, they have expanded their own personal mission to partner with Envision through their Manhattan winery, Liquid Art. They hope to join the Envision community in being a beacon of inspiration for all who are searching for it.
Our Collaboration
Due to the invaluable collaboration of Liquid Art Winery and Envision, three types of Liquid Art Winery wine bottles have been adorned with artwork labels inspired by art pieces created by artists who are visually impaired.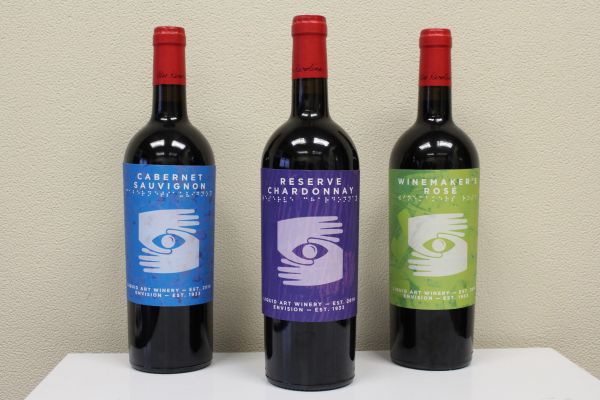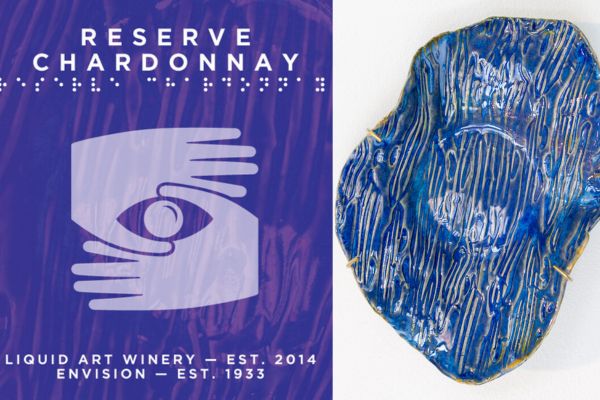 Erica Johnson
Erica was diagnosed with cancer in 2014 with multiple myeloma, a rare blood disorder that affects the bone marrow. She started losing vision little-by-little due to her illness, causing her a great amount of depression. She was soon referred to the Envision Vision Rehabilitation Center where she received a variety of services designed to improve her quality of life. Opportunity and inspiration came to her through the Envision Arts Program. In 2022, she shared her first solo show in the Patricia Peer Window Gallery at the Envision Arts Gallery titled Memory of Waves. Erica's ceramic artwork focuses on functional abstract forms that are imprinted with unique patterns and glazed with deeply rich colors reminiscent of nature. She is inspired by her family, loves to travel, and shares her work on her YouTube channel.
Erica's artwork, Nightfall, was an inspiration for the wine label collaboration
Man Vs. Nature Study B: Patrick McCowan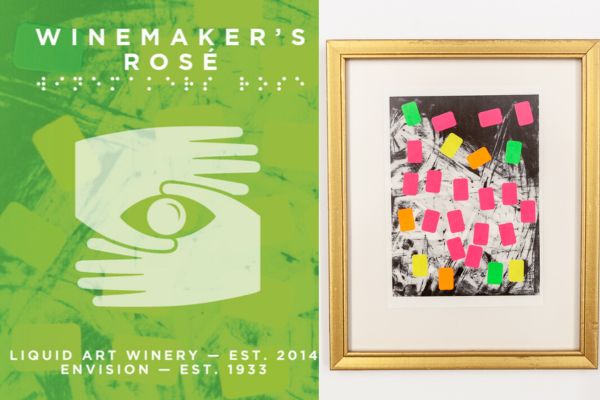 Patrick McCowan
Patrick's artistic journey is centered around his exploration of two-dimensional spatial relationships using a diverse range of stickers. Simultaneously, he pushes the boundaries of three-dimensional art by layering, stacking, and creating unique forms on paper and found objects. In 2022, he captivated audiences with his first solo exhibition titled [AU][TUHM] at the Envision Arts Gallery, drawing inspiration from the enchanting season of Autumn. He has also debuted work at the W. Frank Barton School of Business within Woolsey Hall at Wichita State University in Wichita, KS.
Patrick's artwork, Man Vs. Nature Study B, was an inspiration for the wine label collaboration.
BLUE GOLD PINK PURPLE: Jenny Knapp
Jenny Knapp
For nearly 20 years, Jenny Knapp has been attending PRIDE, Envision's Adult Day Support Program for people with vision loss and intellectual and developmental disabilities. Over the last 10 years, Jenny has been an active member of the Envision Arts Program, where she has dedicated her practice to painting and ceramic art. In the summer of 2022, Jenny began to develop a new approach to her art that consisted of layer after layer, color after color over, creating a pattern that she repeated with a symbol of a cross. These thickly layered and thought-provoking works landed her first painting using this technique in a group exhibition titled, SENSES at the Envision Arts Gallery. In 2023 the Envision Arts Gallery opened a show entitled, Wrap, Cross, Repeat, featuring over 10 newly layered paintings by Jenny. Her work is also on view at the Aloft Hotel of East Wichita, where guests from all over the world have an opportunity to escape into a world full of color, light and love.
Jenny's artwork, BLUE GOLD PINK PURPLE, was an inspiration for the wine label collaboration.