Whiskey: A Sensory Journey with Envision Arts Gallery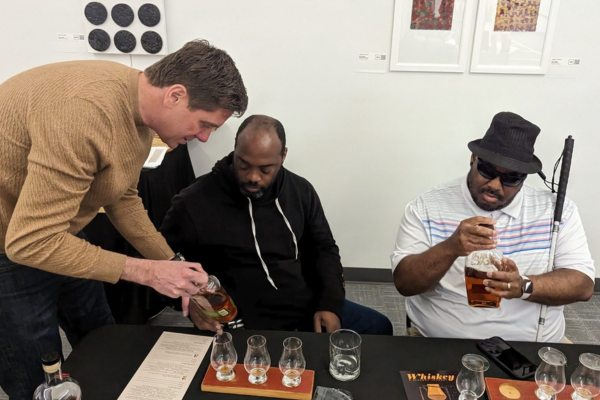 Blog Content
"Whiskey: A Sensory Journey" by Leticia Basgal was an exclusive event that was held at Envision Arts Gallery on March 18. The group discussed the origin of American Whiskey and the creation process. Specifically focusing on the art of smelling, tasting and evaluating the liquid, guests experienced an exciting journey of discovery through senses, memories and emotions.

Twelve people were in attendance - six who are sighted and six who are blind or visually impaired. Three different types of whiskey were tasted: a bourbon, a rye, and a single malt. Participants who are sighted were given blindfolds so they could experience the journey as someone who is blind or has a visual impairment.
"We wanted to host this event to allow people to venture through tapping into the different senses and enjoy utilizing each sense," said Sarah Kephart, Envision Arts Manager. "At the Envision Arts Gallery, we give artists who are blind and visually impaired the opportunity to explore their different senses and create art using them. It was important for us to show the guests the many beautiful ways that the senses can be used for something relatable and fun like whiskey tasting and be able to answer questions and break through the barriers on misconceptions of blindness."

A proper whiskey tasting event can't succeed without someone who really knows their whiskey and can teach that knowledge to the group – which is why we partnered with Leticia.

Leticia had her first connection to the mission of Envision Arts Gallery when she toured with Michael Monteferrante, CEO and President of Envision, and Justin Lader, a donor of Envision. She has attended numerous Envision Gala events as well as many Envision Arts Gallery exhibitions and has supported the arts program through her purchase of artwork at the gallery.

"We started having conversations about the senses icons on our Envision Arts Gallery t-shirts, and how with her training in whiskey tasting, the art gallery would make the perfect setting for a sensory experience with a small, intimate group," said Kephart.

Leticia holds a Level 1 Certification in The World of Whiskey from the Whiskey Marketing School in Austin, Texas. She was born in Southern Brazil but has been living in London for the past 20 years. Her Whiskey journey began in 2014 when she discovered the fine aspects for tasting and enjoying it as her primary beverage of choice. She will be attending the Level 2 Certification for American Whiskey in late March 2023 again in Austin, Texas.

The guests in attendance greatly enjoyed getting to come together and have the experience of an all-compassing sensory tasting. As the night progressed, participants also shared their experiences of vision loss and were able to express their emotional vulnerabilities to one another and feel a true sense of support and community in the shared space.

Roshunda Holt, an Envision Arts Gallery artist who is visually impaired, says that she was grateful to be invited to such a knowledgeable and fun event.

"Not only did I learn about the origin of Whiskey, but I was also educated on the different grains that whiskey derives from, as well as certain techniques you can incorporate for maximum enjoyment. Adding water, for instance, or pairing with a decedent bread, cheese or dessert," said Holt.

Holt continued, "My favorite part of the event was the explanation of the process, getting to feel the barrel wood and physically seeing and touching the rye, barley and corn that is used to make the whiskey. I also enjoyed the music she played because it really helped with embracing the entire experience. I learned that I enjoy a rye whiskey over a bourbon and that a single malt has a stronger presence when you mix it with water."
Sarah Kephart, Envision Arts Gallery Program Manager, says that the sensory journey experience was one she will never forget.

"Just being able to be in a space where we could not only have fun and teach about the senses, but that we felt comfortable enough to be vulnerable with each other, share our stories, and feel that sense of community, was something I did not expect but will always cherish," said Kephart.

To learn more about the Envision Arts Gallery, or to find upcoming exhibitions, visit the Envision Arts Gallery and Community Engagement Center Website, call 316-440-1699, or email gallery@envisionus.com.