What is Glaucoma? Honoring Glaucoma Awareness Month
By Beth Walker • Jan 24, 2023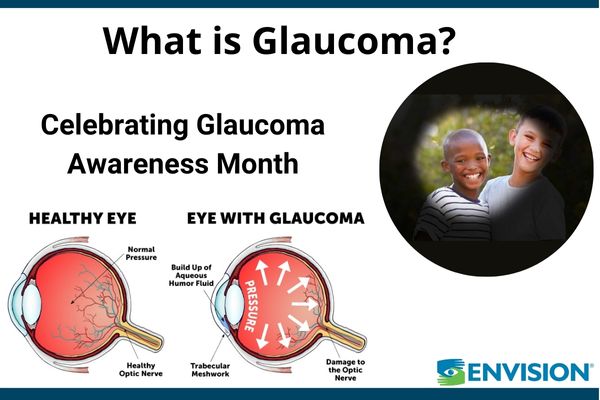 Blog Content
As Glaucoma Awareness Month comes to a close, we wanted to spread some awareness of this visual impairment and allow people to have more knowledge about what it encompasses and how it can affect us. Glaucoma is an eye disease that gradually steals your vision. Today, more than 3 million people in America have Glaucoma. About half of them don't know it. Most people who live with Glaucoma retain their vision, but there are some who have blindness from it. If you regularly visit your eye doctor, you can better detect if you have Glaucoma, and if you do, you will be able to treat it early and be preventative.
What causes Glaucoma?
The main cause is high pressure levels in the eye. If the pressure is too high, it can damage the optic nerve and cause vision loss. There are various types of Glaucoma. Open-Angle and Angle-Closure are the most common, but there are as many as six variations of these two types and all can have different symptoms. Different symptoms of having Glaucoma can include severe eye pain, a feeling of sand in the eye, nausea and headaches, blurred vision, or vision loss. Other times, there are no symptoms at all, or they do not develop until much later. This is why it is so important to visit your eye doctor on a regular basis, because many do not have symptoms and you can be more preventative if you have your eyes checked regularly.
How does your eye doctor test for Glaucoma?
There are now five different ways to look and test for Glaucoma. The method chosen is carefully considered after conversations with you and your doctor. Some examples of testing are measuring pressure inside the eye, examining the shape and color of the optic nerve, measuring your field of vision, and examining your eyes to see the thickness of the cornea and the angle of the eye. The most important thing to keep in mind is that there are now many options for testing, and your doctor will do what is best for your situation and comfort level.
What can you do to treat Glaucoma if you have it?
There are many options to treat Glaucoma, and whatever option you select should be decided on between you and your doctor. There are options such as special eye drops inserted daily, medication, laser surgery, or conventional surgery. Treatment will always depend on the person, and your optometrist will do what is best for your case. All these treatments work to control the pressure in the eye and maintain vision.
Glaucoma is a visual impairment that affects millions. Preserve your health and maintain your vision by regularly visiting your eye doctor.
How can low vision rehabilitation help you?
Low vision professionals are a part of your plan of care if you are losing your vision due to glaucoma. If you and your doctor determine that your quality of life could benefit from rehabilitation, ask him or her to refer you to the Envision Vision Rehabilitation Clinic, or call us to set up an appointment at 316-440-1600.
To learn more about comprehensive vision rehabilitation services from Envision, please visit www.envisionus.com/bicknell-envision-vision-rehabilitation-center.
To learn about Envisions' Adult Support Groups for people who are blind or visually impaired, visit https://www.envisionus.com/adult-programs.