Thank you to all our incredible Customer Service Representatives!
By Holly Herring • Oct 31, 2022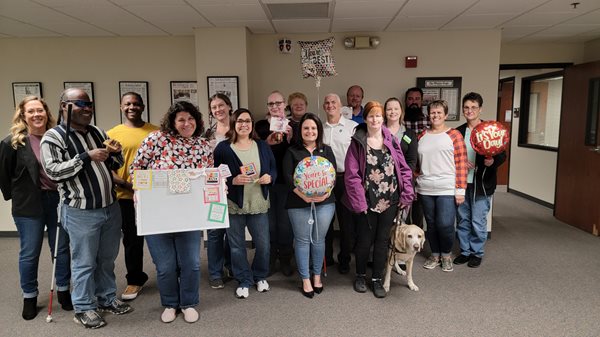 Blog Content
Every year, during the first week of October, the Customer Service team and leaders in Wichita celebrate the hard work and dedication that the Customer Service Representatives (CSR's) put forth every day. They get creative with their contests, giveaways, snacks and overall week-long celebration. Customer Service Week is actually an international celebration of the importance of customer service and of the people who serve and support customers daily.

Each day the team did something different to celebrate. They played daily games like, "Who knows their supervisor best?" where the winners received small gifts card to stores or restaurants (did you know that Rich Moon has had 13 birthdays? Or that Kathy Vines has worked at Envision for 22 years?!). They also did a scavenger hunt around the Water St. office with Envision trivia questions and won prizes.

Breakfast, lunch and snacks are provided daily with clever sayings like, "Have we told you REESE-ently how much we appreciate you?" while handing out Reese's candy, or "Popping in to say thanks for all you do" with a bag of popcorn.

Our team of Customer Service Representatives in Wichita include:

Industries: Andy Hoffman, Christy Blaes, Jennifer St. Louis, Kellie Gerdts, Nick Gasaway, Melody Gomez, Sedrick Veal
Print: Carol Horn, Jason Roepka, Michael Quam & Jamie Musson
Xpress: Arlene Owens, Daniel Molina, Erin Seifert, Wanda Fisher, Curtis Jackson

"We know it's not an easy job to keep our customers happy, but each of you do an incredible job every day.
Our customer service teams are TOP NOTCH, and the company appreciates all your hard work. YOU are the face of Envision, and the way you positively and professionally represent Envision is so very valuable. You are all AMAZING, and we are so grateful for all that you do!" – Kathy Vines, Director of Customer Service & Product Administration, Envision, Inc.