SourceAmerica National Conference - More Opportunities for Envision Industries
By Beth Walker • Jun 19, 2023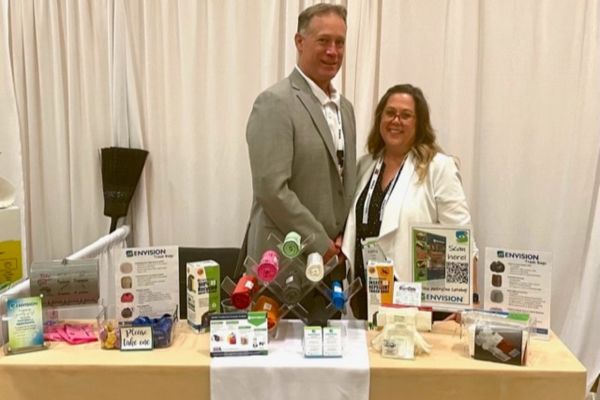 Blog Content
Envision Industries manufactured janitorial products were on full display during a recent national conference in California.
This exposure is opening doors to new partnerships for Envision Industries and is creating new opportunities for Envision to fulfill its mission of improving the quality of life and providing employment opportunities for people who are blind or visually impaired.
The SourceAmerica XForce conference took place at the end of May 2023 in Anaheim, California. Buddy Sell, Envision's Senior Vice President of Operations, and Kathy Vines, Director of Customer Service and Product Administration, represented Envision during the conference.
SourceAmerica is a Virginia-based nonprofit organization that works to create employment opportunities for people with disabilities by leveraging a national network of affiliated agencies.
Many SourceAmerica organizations have janitorial contracts to clean federal buildings across the country and work through a procurement program called AbilityOne to employ individuals who are blind or have other disabilities.
Last October, the AbilityOne Commission issued a new policy that directs service-providing SourceAmerica agencies to purchase and use supplies from AbilityOne product-producing nonprofits for these federal contracts.
This is good news for Envision Industries, whose employees, many of whom are blind or visually impaired, fulfill and ship thousands of orders annually for customers around the world.
"As a result of this policy, we are starting to see increased sales of our trash can liners through these channels, which helps us to continue our mission to provide employment to people who are blind or visually impaired," Vines said.
During the conference, Vines showcased Envision's products as an exhibitor, while Sell attended many of the learning/lecture sessions during the conference.
Vines said she was pleased with the steady stream of attendees who stopped at the Envision booth to gather more information about the organization's products and services. The conference also presented opportunities for networking with like-minded professionals and leaders of the various trade organizations that were represented at the conference.
"Kathy and I enjoyed the opportunity to network with SourceAmerica leadership, nonprofit agencies and their distributors at the XForce conference," Sell said. "With the support and direction of SourceAmerica President and CEO, Richard Belden, we anticipate significant incremental sales from these great organizations over the next several years!"
This was the first time Envision was represented at a SourceAmerica XForce conference, but it likely won't be the last.
The 2024 conference is scheduled for May 6-8 in Orlando, Florida.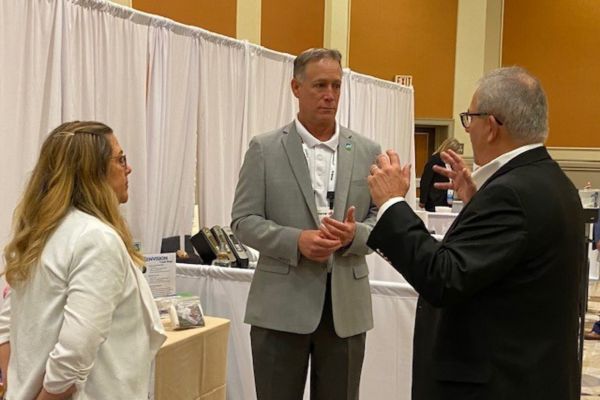 To learn more about Envision Industries, click here for more information.
To learn more about employment opportunities for people who are blind or visually impaired, click here for more information.