Sedrick Veal
By Envision Marketing • Jan 15, 2020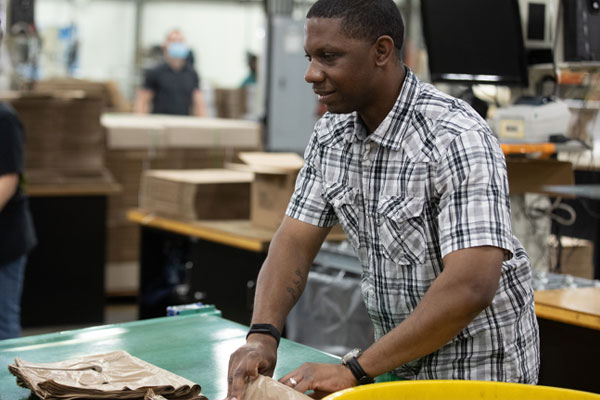 Blog Content
Sedrick Veal, 38, is not the same man he was seven years ago when two open-heart surgeries, each of which resulted in temporary brain death, took away his eyesight. The desperation that once plagued the Louisiana native has been replaced with purpose. Any feelings of uncertainty have given way to an overwhelming desire to lead and serve others.

Sedrick's transformation began the moment he applied for a job at Envision. He knew Envision was the right place for him.

"When I lost my sight, I felt like it was the end of the world because I didn't know there were jobs for people who are blind. That first year, I was completely depressed. I would just sit facing walls, eat and go to bed," he said. "Finally, I started to move around and found out about Envision. Once I got here, Envision put the spark back in me. All I could think was 'Wow, there is life for people like me!'"

For the past three years, Sedrick has looked forward to getting up in the morning and going to work as a bag folder/picker at Envision Industries where he is surrounded by real, authentic people. And now as part of Envision's Upward Mobility program, he is taking typing classes to refresh his skills and open himself up to new career paths and a possible return to college to become a social worker.

"Some people think that because you are blind, you are limited to doing just a few things," Sedrick said. "But people who are blind are just like everyone else – we have children, go to church, pay bills and have jobs."

Sedrick's thankful for the opportunities he's been given to be part of a team at Envision and go about his job with integrity and enthusiasm. He makes a point to put others' needs before his own and ends each day by asking himself, 'What did I do to help someone today, and what did I say to inspire others.' "

Sedrick is a beacon of positivity for everyone around him. He is yet another example of how Envision's employment initiatives restore meaning in the lives of adults who are blind or visually impaired by allowing them to feel good about their own accomplishments, enjoy financial stability, understand others and contribute to the community around them.