NTX Giving Day is Around the Corner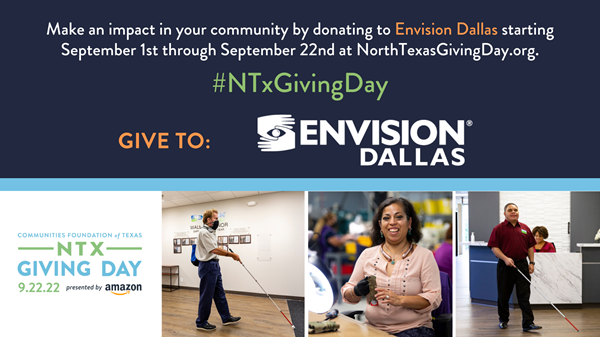 Blog Content
North Texas (NTX) Giving Day is one of the largest community fundraisers in the nation organized by the Communities Foundation of Texas. Every year, more than 3,000 nonprofits participate including Envision Dallas. This year, NTX Giving Day will be on Thursday, September 22nd from 6 a.m. to midnight and the theme is, "Find your passion. Give with purpose."

Our goal this year is to raise $20,000 for Envision Dallas programs and services. We hope you join us in helping to spread the word about supporting Envision Dallas to your networks. You can share our fundraising page and follow along with our progress at www.northtexasgivingday.org/organization/envision-dallas-foundation.

Here's How You Can Help:

1. Follow us on social media and share our posts about NTX Giving Day to encourage your network to give! 2. Create an Individual Fundraising Page and raise money on behalf of Envision Dallas beginning September 1.
Find our page on the NorthTexasGivingDay.org website and click the Fundraise button.
Edit your page to adjust your Fundraiser title, goal, and image or video. Add a short story in the description section to tell your audience why you are passionate about Envision Dallas.
Publish and promote your page through social media, email or text messages! Don't forget to thank your donors.
3. Recruit a company or organization to create an Event or Team Fundraising Page.
Event Pages are great for organizing a large group of members around a collective goal.
Team Pages are for smaller groups and helps to bring multiple fundraisers together.
And of course, anyone in Wichita or Dallas can donate to Envision Dallas Foundation starting September 1st at www.northtexasgivingday.org.

Stay tuned, contact info@envisionus.com for more information and start thinking about your "why" you support Envision Dallas.