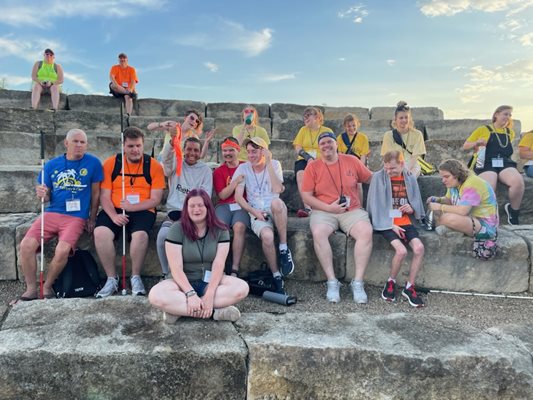 Blog Content
Three years was far too long to not meet in person for Heather's Camp! But the campers and counselors made up for every minute during the four days of Heather's Camp this month. Heather's Camp is a national summer camp for children who are blind or visually impaired.

Kids from ages 7-18 have a traditional camp experience in an inclusive environment. It is a great opportunity to build independence, make new friends, and gain confidence – regardless of vision level.

"It was amazing to see how much these kids have grown since I last saw them, and not just in size, but also in independence and self-confidence," said one Heather's Camp counselor. "I can't wait to see my HC family again next year!"

Long-time camper, Rich Yamamoto, reflected on his experience. "I had an amazing time at Heather's Camp. I reconnected with old friends, made some new ones and made memories that I will never forget. This was the last time I was a camper at Heather's Camp. Definitely can't wait to come back as a counselor next year."

"We had a great return to in-person camp for Heather's Camp at YMCA Camp Wood in Elmdale, KS, stated Hannah Christenson, Director of Community Programs. "We had over 40 campers from Kansas, Texas, Colorado, Missouri, Wisconsin and even Hawaii.

"We were so privileged to be able to join the Heather's Camp family," said the Knight family, who traveled all the way from Hawaii with their child who is visually impaired.

The camp experience gives kids the opportunity to participate in activities including music, arts and crafts, horseback riding, archery, swimming, dance night and much more. Heather's Camp is scheduled to return to Camp Wood again next year.