Moving Upward
By Envision Marketing • Apr 21, 2017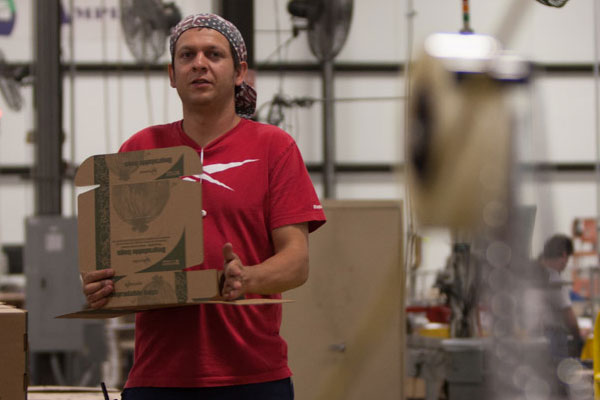 Blog Content
Apple co-founder Steve Jobs once said, "The only way to do great work is to love what you do." Those words could just have easily come from the mouth of Francisco "Paco" Padilla.

It's true that Paco loves his job at Envision, but more than anything else, he's thankful to have put his difficult times behind him.

In just a matter of three years, Paco's life completely changed.

He moved to the United States from Mexico in 2009.

Over a two-month period in 2010 while he was working as a truck driver, he completely lost his eyesight to Leber's Hereditary Optic Neuropathy (LHON), an inherited disease.

In 2011, the depression from losing a job and having an uncertain future began to lift. He had found a full-time job at Envision that finally brought financial stability to his family along with their first home. He excelled at his duties from day one, and it was no surprise to anyone when he was selected as one of Envision's Employees of the Year in 2016.

"Sharing experiences with my co-workers in similar situations at Envision has been a blessing," Paco said. "I appreciate the opportunity to learn new things and have support from others."

The remarkable progress Paco has made in his personal and professional life is due to his commitment to constantly bettering himself. As a result, Paco has already established himself as a standout in Envision's Upward Mobility Program, an initiative coordinated by Human Resources to provide encouragement and access to resources that allow employees to pursue advancement in their careers.

Hired as a bag folder/picker at Envision Industries, Paco was promoted to machine operator within a year. In 2016, he was promoted once again to production lead.

Paco's skills, work ethic and positive attitude combined with his knowledge and initiative, are just a few of the characteristics that make him an outstanding employee and a testament to the power of believing in one's self.

At Envision, we place a high value on our employees and their capabilities to make great contributions to the organization and the community. By setting and achieving career goals, Envision employees are the reason we have become one of the top employers of people who are blind or visually impaired in the country.

Envision is looking for talented team members to join us for a diverse set of employment opportunities.

To inquire about open positions or how to become an Envision employee, contact the Envision Recruitment Specialist at GoodJobs@envisionus.com or by calling us at 361-425-7119 or toll free at 888-425-7072.