Make48 Competition: A Kansas State School for the Blind and Envision Collaboration
By Beth Walker • Feb 28, 2023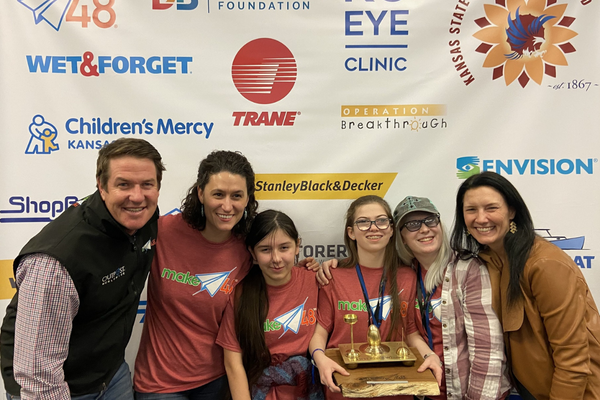 Blog Content
Make48 is a competition and community for everyday innovators. It is a 48-hour competition where participants are grouped into teams and are given a challenge to which they build a physical prototype. What sets Make48 apart is that they hold these events in spaces that offer equipment, tools, and have tool technicians to help teams build almost anything their imaginations can come up with to solve the challenge. This challenge is held in many different locations, but their home location is in Kansas City, Missouri.

In Wichita, for the past two summers, the event was held at Go Create, a Koch Collaborative on the Wichita State University campus. Hannah Christenson, Envision Director of Community Programs, was invited to GoCreate by the Make48 team to consult on accessibility and brainstorm how this competition could be offered to those who are blind or visually impaired. The connection was made between Envision, Make48 and Kansas State School for the Blind (KSSB), because KSSB offered a makerspace and housing to accommodate students. Make48 was held for the first time at KSSB in December.

Just like our Level Up Program, Make48 provides an opportunity for participants who are blind or visually impaired to understand that they are truly capable of anything they set their mind to, and that they have a community support system. Of the 19 students that competed in this year's Make48 competition, 12 had also previously participated in the Level Up Program.

Hashim Syed, a participant of this year's Make48 competition and Level Up participant, says that "I lost my vision at the age of 10, and then from then on, I always felt like my disability was constantly an obstacle and it caused negativity around my life. Being in this type of environment has an impact on making me more comfortable, not only talking to other people but also understanding who I am as a person and that I'm not defined by my blindness."

During the competition, the teams went to work to build their prototype, an egg container that holds, displays, and potentially dispenses farm fresh eggs. The students were broken up into six teams with a team leader for each team. The winners were Little Red Hens: Ceci, Lyra and Callie! They will go on to compete at Nationals this spring in Kansas City, Missouri for a chance to win $10,000!

If you are interested in learning more about Make48, youth programs, or adult programs offered for those who are blind or visually impaired, please contact 316-440-1525 or email programs@envisionus.com.