Kyle Shaults Opinion Story Featured in Kansas Reflector
By Holly Herring • Jun 29, 2022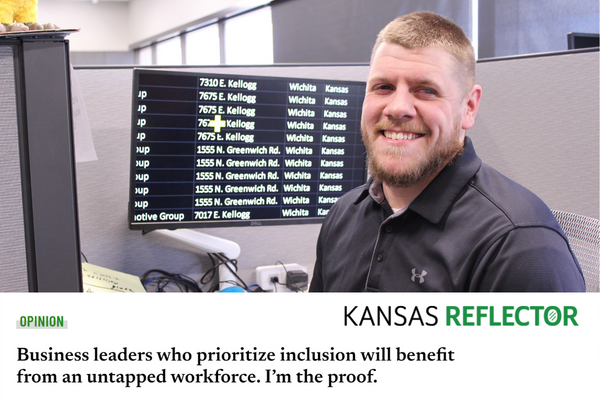 Blog Content
Kyle Shaults, Call Center Lead at Envision's Workforce Innovation Center, was recently featured in the Kansas Reflector, a nonprofit news operation providing in-depth reporting, diverse opinions and daily coverage of state government and politics.

Kyle's opinion article was based on his 2021 speech at the Envision Gala event. After getting overwhelming positive feedback on his inspirational speech, Kyle and Holly Herring, Envision Marketing Manager, worked to finesse his speech for print and then sent it to the Kansas Reflector for consideration as an opinion story. After months of following up and checking with the editors, the publication decided to publish his story in June.

An excerpt from the article reads, "Great things can happen when people within a company accept people as they are and genuinely strive to be inclusive for all. It's amazing to move up through a company that understands that people with disabilities want to work and can work. It proves that we're capable of anything."

The link to Kyle's story on the Kansas Reflector Facebook page includes 121 likes, 10 comments and 6 shares. One person commented and said, "What an amazing story! So grateful to have read about this kind of action to include all Kansans occurring in our state, and hope it inspires more companies to enact similar efforts." Another comment said, "I really appreciate this post and love hearing about other people thriving with vision loss."

You can read the full story by finding his article on kansasreflector.com.