How Someone Who is Blind or Visually Impaired Gets Ready in the Morning
By Alison Roets • Mar 25, 2022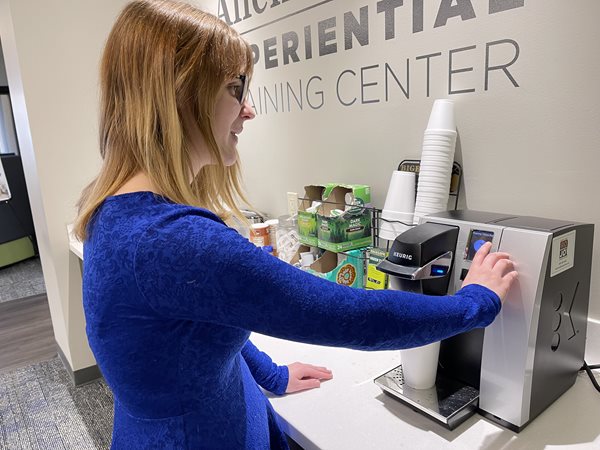 Blog Content
Getting ready in the morning is part of a person's daily routine. For someone who is blind or visually impaired, this routine has a few obstacles. Someone who is sighted can get up and grab an outfit from their closet, eat breakfast and get in their car. For someone who is blind or visually impaired, they have to plan ahead. Some individuals with sight loss use dividers in their closet with the days of the week on them and plan outfits ahead of time. Others use identification devices like WayTags that they can attach to clothing, label in an app and then scan with the app to tell them what color their clothing is. There are also apps that can connect them with a real person that can describe patterns and colors to them.

Making breakfast is easy. Making a kitchen accessible with bump dots, braille labels, braille or large print measuring cups and spoons, talking scales and thermometers and more, allows those with sight loss to cook efficiently and independently.

Transportation is one of the most difficult parts of the day for someone who is blind or visually impaired. Buses are not available in every town or city, but when they are, they are limited. Sometimes you must take more than one bus to get to a location. Other times you have to walk another couple blocks from the nearest bus stop to your location. In most places, rideshares like Lyft and Uber are a good option, but that can get expensive and unreliable during inclement weather. Some areas offer a cheaper option such as para transit, which gets a person from door-to-door for a low price, however these are limited depending on the number of vehicles and drivers the transportation department has available. It is good to have all these options so when one doesn't work for a situation, another might.

Despite the obstacles, individuals with sight loss get ready for their day the same as those without sight loss. With all the assistive devices being developed, challenges such as not being able to match colors and not being able to drive can be overcome by planning and using available resources.

If you want to learn more about assistive technology tools for people who are blind or visually impaired, reach out to the Bicknell Envision Vision Rehabilitation Center in Wichita or the Gigi and Carl Allen Family Vision Rehabilitation Center located at Envision Dallas.



Alison using an app on her phone that tells her the color of a piece of clothing.