How Envision's College Success Program Supports Students as They Navigate College
By Envision Marketing • Jun 28, 2022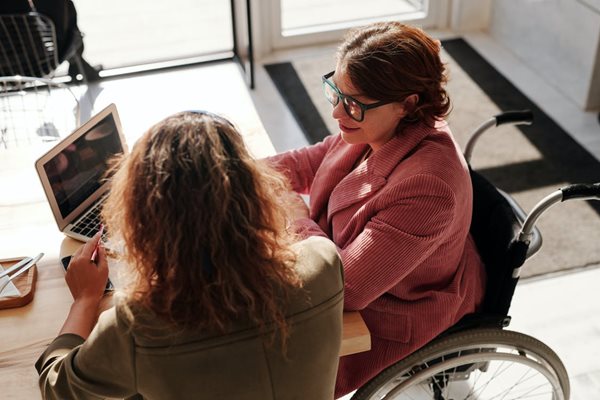 Blog Content
As a college student, you share many experiences with your sighted peers, but others are unique to you and your blindness or low vision. Envision's College Success Program gives you the tools and support you need to thrive during college and beyond.

In 2013, research funded by the Lavelle Fund for the Blind was conducted on the experiences of college students who are blind or low vision. The findings of this research showed that students:
Need to arrive at school prepared to direct their own learning,
Are at risk of becoming isolated in the classroom, diminishing the quality of their educational experience,
Need to successfully apply their technological knowledge to the rigorous demands of the college setting,
And need to develop strong connections to people in their social communities and professional networks.
In response to this, the College Success Program (CSP) was developed to help students get the resources and opportunities they need to succeed as they transition from high school to college to employment. The all-virtual CSP offers a holistic support system that utilizes the knowledge and experience of experts in the blindness field as well as CSP Mentors- a group of recent college grads who are blind or low vision themselves- to help provide guidance to students throughout their journey.

Envision's CSP is the leading partner in helping students who are blind or low vision achieve their limitless potential.

Members of the CSP have access to:
Resources- Robust and carefully crafted to address situations encountered by blind or low vision college students.
Mentorship- CSP Mentors provide an experienced and knowledgeable perspective drawn from their own college journey. They can recommend specific resources, provide info on technology and share opportunities.
Meetups- Held twice a week Meetups offer a chance for students to call in and connect with their peers and CSP Mentors, talk about issues, ask questions, network and more.
Community- The CSP has cultivated an online community where students can connect and engage in a safe space on academic, professional and social topics relevant to them.
Audiobooks- CSP members receive access to a catalog of over 80,000 human-read audiobooks.
Webinars- Monthly webinars focus on topics relevant to college students and include expert panelists.
College Knowledge Podcast- Students can gather information and hear from guest speakers on the CSP's podcast, College Knowledge, which explores topics covering all aspects of the college journey for students who are blind or low vision.
Summer Workshops- Virtual workshop opportunities for students to explore interests outside of school like book club, virtual choir, coding, creative writing, and more.
Our Mentors understand your journey. As former college students who are blind or low vision themselves, the CSP Mentors have been right where you are and have valuable information and support to share. Learn more about Envision's College Success Program by visiting the website and registering for a membership today.

Students currently working with their state vocational rehabilitation agency can be sponsored by their counselor to become a CSP member. Counselors can contact the CSP at csp@envisionus.com.

To learn more about Envision's aquisition of the College Success Program, read our news release by clicking here.