Grant Funding Provides New Van Transportation for Envision P.R.I.D.E.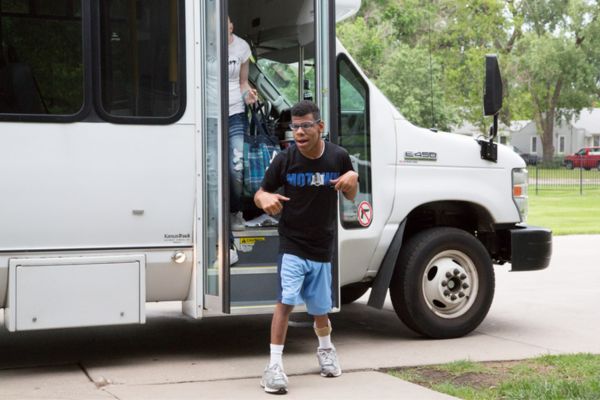 Blog Content
Envision's Adult Day Support Program, P.R.I.D.E., will now be able to provide another important transportation resource for its consumers.
A fleet of five vehicles are currently used daily to transport individuals at Envision P.R.I.D.E. to and from various destinations throughout the community.
It's easy to understand how having one or more of those vehicles out of service could be detrimental. Unfortunately, one of P.R.I.D.E.'s wheelchair-accessible transit vans is nearing that point.
All of the vehicles that are used for transportation purposes must pass an annual Kansas Department of Transportation inspection. With this particular van, the most recent inspection turned up a few underlying issues with the wheelchair lift, but was ruled safe to use for one additional year. Now, a $140,742 grant awarded to Envision from the Wichita Area Metropolitan Planning Organization (WAMPO) will allow this van to be replaced. This includes $90,558 for the van itself, $49,000 for help with operating costs, and $960 for preventive maintenance.
Stacy Fuller, Envision's Executive Director of Rehabilitation Services and Support Programs, spearheaded the effort to pursue the grant.
Jared Holcomb, Manager of Envision P.R.I.D.E, said he is excited about the opportunity to add a new vehicle to the fleet.
"Part of our program is to provide access to our consumers, and these vehicles help us do that," said Holcomb. "It allows our consumers the opportunities they need to thrive. They are not only being presented with work opportunities, but many who participate in P.R.I.D.E. are able to receive the support and guidance they need for their specific skill sets. For those who need the transportation, this new grant funding will allow them to continue getting that support."
To learn more about P.R.I.D.E. click here for more information.