Envision Xpress Vendor Shows Highlight the Importance of Diversity in Employment
By Beth Walker • Aug 24, 2023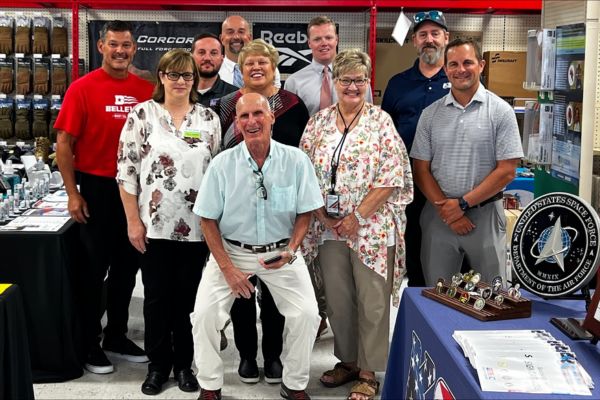 Blog Content
A series of four vendor shows unfolded recently at important Envision Xpress Base Supply Centers: Air Force Academy, Fort Carson, FE Warren Air Force Base, and Peterson Space Force Base. The aim of these shows was to further emphasize the critical role that Envision Xpress and other business partners play in supporting the United States defense industry and national security.

Envision Xpress operates 16 retail stores on U.S. military bases in 11 states, providing office supplies, janitorial supplies, individual equipment and clothing to U.S. military personnel through the AbilityOne program. Envision Xpress also provides job training and employment opportunities to individuals who are blind or visually impaired.

Each of the four Envision Xpress Base Supply Centers had displays of military products made by people who are blind or visually impaired such as parkas, bibs, trousers and three different types of gloves.

Other businesses involved in the vendor shows included ULINE, King Signs, Warson Brands, Travis and Seattle Lighthouse, Belleville, MOTUS, West Texas Lighthouse and CCP Industries.

"These events served as a vibrant platform, highlighting the considerable impact these businesses have on fueling innovation, agility and creating a competitive edge - all vital components to the US defense strategy," said Tonya Dudding, Regional Manager at Envision Xpress Ft. Carson.

Also a noteworthy focus of the shows was the significant focus on the AbilityOne Program that aims to create job opportunities for individuals with disabilities. With the involvement of Envision Xpress, Travis Lighthouse, Seattle Lighthouse, West Texas Lighthouse and CCP Industries, all of which are leaders in promoting inclusive employment, the defense industry's commitment to inclusive growth was firmly reinforced.

"The successful orchestration of these events is a clear testament to the robust bonds tying the defense industry, small businesses, and the AbilityOne Program together. They illustrated that the power of diversity is a force to be reckoned with, setting a solid course for the future of our national security," said Dudding.

To learn more about Envision Xpress, click here for more information.