Envision Virtual Fall Conference Reaches Global Participation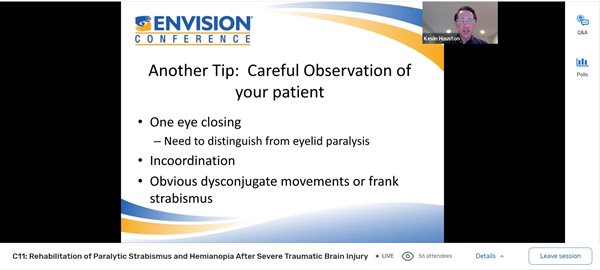 Blog Content
Envision University hosted their annual fall conference in early October through a virtual format. There were 163 online attendees representing 34 states including, the District of Columbia, U.S. Minor Outlying Islands and the countries of Australia, Canada, Ireland, Scotland, Taiwan, Uganda, United Arab Emirates and the United Kingdom.
Optometrists, occupational therapists, low vision therapists, vision research scientists, O&M and other allied professionals serving people who are blind or visually impaired attended the conference. They enjoyed 34 speakers presenting in 27 clinical education and research sessions.

The most popular sessions and topics included:
Assistive Technology and Head Mounted Video Display
Neurorehabilitation and Brain Injury: A Systemic & Ocular View
Gene/Stem Cell Therapy
Current Research with Implications for Low Vision Clinical Practice
Posterior Cortical Atrophy: Treatment for the Patient and Family Members
Effects of Light on Circadian Rhythms
Opportunities and Challenges for OTs Working in Vision Rehabilitation
Lived Experience: Leading New Research Agendas in Vision Science & Vision Rehabilitation Science
A Review of Inheritance Patterns and Pedigrees for Hereditary Eye Conditions
Marijuana: Your Retina and Brain
Redefining O&M, Daily Living Skills, and AT Community-based Training
Research on New and Novel Practices for Low Vision
Post-event surveys are still being collected, but responses are positive: "Thank you, Envision, for a sensational educational experience. This is my first Envision Conference, and I will continue to attend. Excellent presenters and valuable information."

"I loved all the content. It was very relevant, and I made some great connections with other OTs in my area of work!"

"I found every session to be informative, relevant and current. I had a positive takeaway from every session I attended - does not happen often. Thank you for the opportunity."

Envision University is now preparing for the Low Vision Grand Rounds on November 10 at Envision Headquarters which also includes an open house for the Bicknell Envision Vision Rehabilitation Center in Wichita.

Visit https://university.envisionus.com for more information.