Envision University 2023 Conference Emphasizes Latest Advancements in Vision Research
By Beth Walker • Apr 24, 2023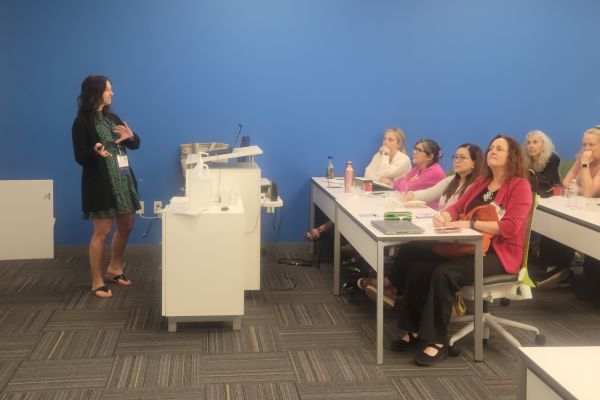 Blog Content
Envision's 2023 Annual Spring Conference gave professional providers from across the nation who serve people who are blind or visually impaired the chance to learn about the latest ideas and advancements in low vision research and technology.

Considered the premier international conference on low vision for learning and networking with medical professionals and researchers, this year's event brought over 100 attendees to the Academic Learning and Teaching Center at the University of Texas (UT) Health in San Antonio, Texas.

The conference was organized in collaboration with the UT Health Department of Occupational Therapy, with several of their faculty presenting on different low vision research topics. Ten UT Health occupational therapy students also attended as volunteers and were able to be a part of research discussions.

"We had a very diverse program that addressed vision loss across the lifespan, presented by expert clinicians and researchers from across the USA and Canada," said Michael Epp, Envision Manager of Professional Education.

Thirty speakers presented more than two dozen clinical education and research sessions, helping providers understand how to better meet their patients' needs.

"Speakers were able to dive further into their professional expertise, and share new discoveries in their research with professionals who can apply this knowledge to their fields of work," said Epp.

Some of the more popular sessions featured the latest technology developed to help people who are blind or visually impaired, such as a session on head-mounted augmented reality gear to improve visual function. Other favorites included sessions on hybrid telehealth services, identifying and managing cortical vision impairment in adults and children, and diagnosis and management for patients with inherited retinal diseases.


Envision University is already gearing up for this year's virtual Fall Conference scheduled for September 29th and 30th. Mark your calendars and watch for information about presenters, topics, and how to attend at university.envisionus.com.