Envision Research Institute Fellow Presents at World-Renowned Vision Research Conference
By Beth Walker • May 19, 2023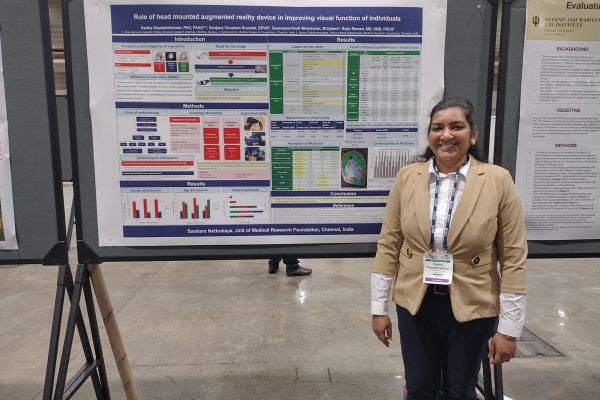 Blog Content
Sarika Gopalakrishnan, a research fellow at the Envision Research Institute (ERI), recently attended and presented at the 2023 Association for Research in Vision and Ophthalmology (ARVO) Conference held in New Orleans, Louisiana. This 5-day conference brought more than 5,000 researchers from all over the world, including many from Canada, Australia, the United States, and England.

Gopalakrishnan has a Ph. D in the application of virtual reality and augmented reality in the field of low vision rehabilitation. She has worked in the field of low vision for over 15 years and has seen more than 50,000 patients. She is originally from Chennai, India and has founded both a Low Vision Care Clinic and a Vision Enhancement Clinic in India, both the first of their kinds to ever be established there.
Gopalakrishnan presented her topic on the Role of Head-Mounted Augmented Reality Devices in Improving Visual Function of Individuals at this year's ARVO conference. Augmented reality (AR) is defined as an enhanced, interactive version of a real-world environment achieved through digital visual elements, sounds, and other sensory stimuli via technology. AR incorporates three features: a combination of digital and physical worlds, interactions made in real time, and accurate 3D identification of real objects.

"AR is being used already in many different professions such as construction, manufacturing, information technology, and healthcare. However, AR utilization in the field of low vision is almost unheard of. My goal is to make this technology beneficial and available to people who have visual impairments, at a low cost to them," said Gopalakrishnan.
Of the over 5,000 people that attended the conference, less than 10 people presented on technology in the field of low vision, and only 2 researchers specifically discussed AR technology, Gopalakrishnan being one of them.
"Since childhood I have had an ambition to help people who are blind or visually impaired. At a young age, my younger brother lost one eye and is also colorblind in the other. This made me want to help other families to realize that life is not over after vision loss. When I worked in India, suicide thoughts were very high with vision loss. Losing vision was not talked about enough, and there was very high fear around losing vision. I am inspired by both experiences, and I work hard at my best level to wipe the tears of people with low vision and blindness," said Gopalakrishnan.
"I am grateful to the Envision Research Institute for supporting my trip to the ARVO conference and for my future work that will continue."

In June, Gopalakrishnan will be traveling to the UK and staying for 3 months to continue her research work on augmented reality in the field of low vision rehabilitation.

To learn more about the Envision Research Institute, click here.