Envision P.R.I.D.E. Gets Largest Job Since 2020
By Beth Walker • Jun 16, 2023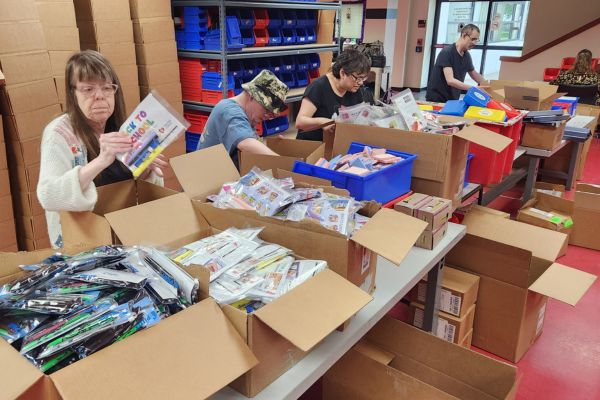 Blog Content
At P.R.I.D.E., Envision's Adult Day Support Program, consumers who have an intellectual developmental disability and a visual impairment are able to participate in specialized activities based on each person's needs and goals. They are also provided with opportunities to work and earn compensation through Envision Industries fulfillment services.
P.R.I.D.E. was recently awarded a contract with Essendant, an Illinois based distribution and fulfillment services company that partners with Envision Industries. This contract allows consumers to gain more job opportunities by assembling back-to-school kits that will be sent out to various companies. This is the biggest kitting job contract that P.R.I.D.E. has received since the Covid-19 pandemic in 2020 and is providing over 30 consumers with a new work opportunity. Every consumer who wants to participate in this job is able to in ways that work for them.
Consumers are putting the kits for Essendant together via an assembly line, with consumers being placed in groups tailored to their abilities. Supplies within the kit include notebooks, pens, glue sticks, highlighters, pencil boxes and more. One group takes a box down a line of tables, filling it with the appropriate items. The other group sits, and each person has 1-2 items that they place in the box and pass on to the next person until the process is complete.
Past jobs that P.R.I.D.E. consumers have participated in include small assembly, re-boxing, recycling and folding boxes.
Envision is grateful to Essendant for the opportunity to allow our consumers to have more work experience and build their self-confidence. Our P.R.I.D.E. participants have a strong work ethic and by gaining a new job opportunity, they are able to explore new areas that interest them.

To learn more about P.R.I.D.E. click here for more information.