Envision Orientation & Mobility Specialist Enhances Students' Ability to Navigate in School
By Beth Walker • May 23, 2023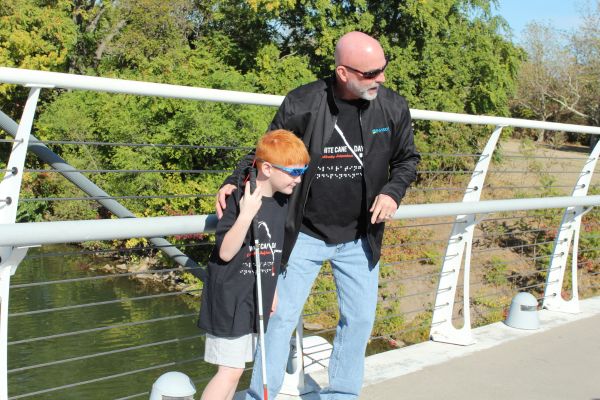 Blog Content
On any given day, you will find Ray Oddis working with people who are blind or visually impaired of all ages to help them gain independence in his role as a Certified Orientation & Mobility Specialist at the
Envision Vision Rehabilitation Center (EVRC). What you may not be aware of is the work he also does to help school-aged children through school intervention services with local district partners.

Orientation & Mobility (O&M) training is a profession within the low vision rehabilitation field that teaches safe, efficient and effective travels skills to people who are blind or visually impaired of all ages. This consists of white cane training in teaching individuals how to utilize various cane types as well as practicing navigation skills with a cane, specific to each individual's needs.

Oddis brings more than 30 years of experience in the low-vision field and an incredibly diverse background. He has a true passion for helping people improve their mobility and live a more enriched life.

"Not only is Ray good with people who are blind or visually impaired, he is really good with youth with special needs such as Cerebral Palsy and Autism," says Stacy Fuller, Executive Director of Rehabilitation & Support Programs. "He has such a nature about him and has the awareness and knowledge it takes to work with those individuals."

At the EVRC, Oddis provides training for PRIDE, Envision's Adult Day Support Program for individuals with vision loss and intellectual developmental disabilities, and assists all low-vision staff and children within the
Envision Child Development Center. He trains all new hires and any staff at Envision who are blind or visually impaired that need assistance learning a new route to work, the store, or to activities and is responsible for helping people navigate independently.

Oddis is able to help students within area schools due to special partnerships Envision has established with Butler County Special Education Interlocal, Haysville, and Derby school districts. He coordinates orientation and mobility services for youth ages three and up to meet the needs of the students' treatment plans. This training strives to be a solid supplement to existing services and is successful because of the strong cooperation with teachers, paraprofessionals, and students.

This training can mean spending hours assisting students who are blind or visually impaired with learning a new route to class, to the restroom, lunchroom, and how to navigate to/from the bus. Additionally, he will work with students who are blind or visually impaired on activities that are essential in playing their sports such as track and field and basketball. Sometimes his training will include a specific filter assessment (special sunglasses) to support students who are dealing with light glares in and out of the classroom. His training can also be for teachers, caregivers and support staff on how to work with the students who are blind or visually impaired on the days that he is not on site. 

"I love working with school communities, and it enriches the life of not only the students I am able to help but it also enriches my life," Oddis said. "The team-building and wonderful cooperation of each of the schools allows great things to happen for blind and visually impaired students."

To learn more about the Envision Vision Rehabilitation Center, visit this link for more information.