Envision Medical Director Honored for Excellence
By Holly Herring • Mar 30, 2023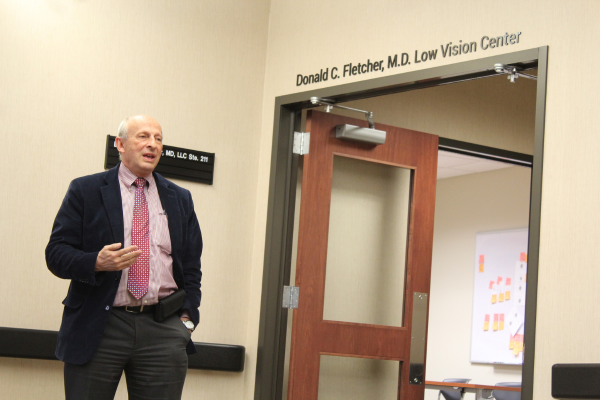 Blog Content
Donald C. Fletcher, M.D., a pioneer in helping people with low vision, and the Envision Medical Director, has been recognized by the Wichita Business Journal for Excellence in Healthcare - Low Vision Care Professionals.

Dr. Fletcher has dedicated his life to helping people of all ages who are experiencing vision loss and want to maintain as much of their current vision as possible. He is one of the world's leading authorities on low vision as well as a clinician and researcher in retinal diseases and low vision rehabilitation.

"Congratulations to Dr. Fletcher. It is a tremendous opportunity to work alongside him and have direct insight into the impact his work has made on both his patients and the Envision team," said Stacy Fuller, Senior Director, Rehabilitation and Support Programs, Envision.

Serving tens of thousands of patients across the United States for over 40 years, Dr. Fletcher has helped people with vision loss maintain independence and a high quality of life. He has provided low vision consultation at his practice within Envision at the Bicknell Envision Rehabilitation Center (EVRC) since 2006, seeing more than 35,000 patients.

"Dr. Fletcher plays an integral part in the comprehensive rehabilitation service model that we provide to clients seen here at Envision," said Stacy Fuller. "There is nowhere else in Kansas that operates with this multidisciplinary approach under one roof."

Dr. Fletcher earned his M.D. degree in 1982 from the University of Alberta, Canada. He is the Medical Director at the Bicknell Envision Rehabilitation Center in Wichita, KS, and is also the Director for the Rank Stein and Paul S. May Center for Low Vision Rehabilitation in San Francisco, CA.

Dr. Fletcher pioneered the engagement of Occupational Therapists, Physical Therapists, and Orientation and Mobility Specialists working as a team with the physician in the rehabilitation process for those with low vision.

On Monday, March 27, Envision recognized Dr. Fletcher for his many accomplishments and efforts within the low vision field. A reception was held at the EVRC with remarks from Dr. Fletcher's colleagues, as well as Michael Monteferrante, President and CEO of Envision, and Sam Williams, Chairman of Envision's Board of Directors. After the surprise unveiling of the "Donald C. Fletcher, M.D., Low Vision Center," Dr. Fletcher gave closing remarks saying, "The best is yet to come!"
Dr. Fletcher Reception