Envision Industries Shines Nationwide with Key Trade Shows
By Beth Walker • Aug 28, 2023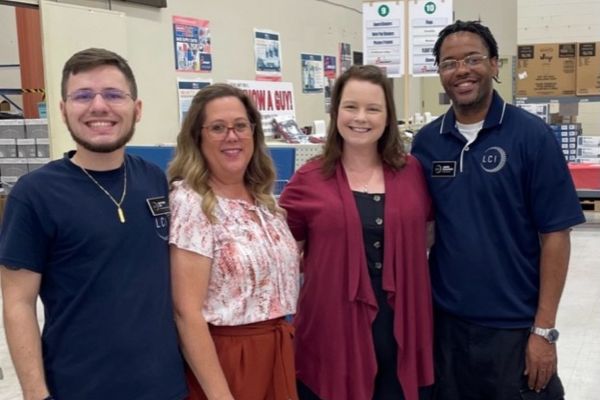 Blog Content
Two members of our Envision Industries team recently headed to Florida and Georgia to attend vendor trade shows and meet with customers. These opportunities help to further educate customers and potential customers about Envision Industries, and its mission to employ people who are blind or visually impaired. They also allowed Envision Industries to showcase its manufacturing capabilities on a national level.

Kathy Vines, Director of Customer Service and Product Administration for Envision Industries, and Clara Nichols, Customer Service Manager, took part in vendor events at Eglin Air Force Base, Hurlburt Field and Naval Air Station Pensacola in July, meeting with other customers in the Florida area. Vines also traveled to Atlanta in mid-August to attend a Veterans Health Administration (VHA) Environmental Programs Service Training Event.

In Florida, the Envision staff took part in customer appreciation events for LC Industries (LCI), which is one of Envision's largest customers and supporters. LCI is an AbilityOne organization like Envision and operates 60 military retail stores in 16 states.

"We showcased Envision's trash bags, high visibility belts, military award binders, markers, business cards, and other items," said Vines. "It gave us the chance to not only meet and interact with the LCI Base Supply Center personnel, but with their customers and other AbilityOne agencies and commercial vendors who were showcasing their products," said Vines.

While on the military bases, Vines and Nichols took the opportunity to connect with customers at the
Defense Commissary Agencies (DeCA). Envision provides DeCA agencies across the country with bags used to pack their customer's groceries, as well as trash bags for their internal use. Vines and Nichols also visited the Federal Prison in Marianna, Florida which purchases Envision trash bags.

"This trip allowed us to further educate our customers about Envision's mission, products and capabilities and the in-person interactions with our customers help strengthen our relationships," said Nichols. While in Georgia, Vines collaborated with staff from the National Industries for the Blind, Alphapointe and Austin Lighthouse (Travis Assoc. for the Blind) to showcase products made by people who are blind or visually impaired and educate staff with the VHA Environmental Programs about the AbilityOne program.

To learn more about Envision Industries, click here for more information.