What does Envision do?
By Holly Herring • Aug 26, 2022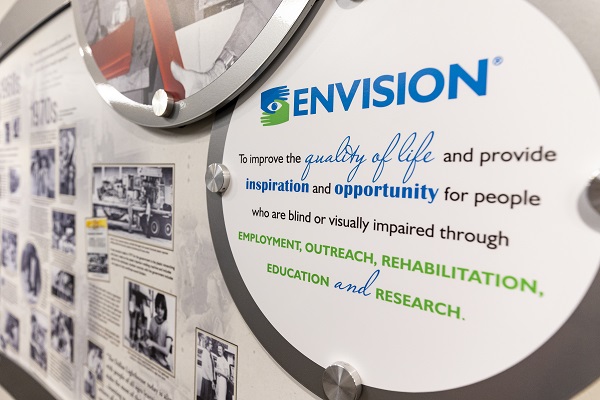 Blog Content
What does Envision do exactly? Is Envision a national company? We get these questions often and hope the guide below is helpful for your understanding.

Envision's headquarters are located in Wichita, Kansas while Envision Dallas is located in Dallas, Texas. Envision/Envision Dallas is made up of many departments focused on improving the quality of life for people who are blind or visually impaired.

At our Main Street location in Wichita:
At our Water St. Location in Wichita:
Envision Dallas serves and employs people who are blind or visually impaired in 11 North Texas counties with crucial programs and services.

At Envision Dallas:
Manufacturing and Fulfilment – Manufacturing of goods for the U.S. military is our honor and privilege. Our product manufacturing provides opportunities to employ more than 100 Texans who are visually-impaired and blind.
The Gigi and Carl Allen Family Vision Rehabilitation Center – A clinic that provides comprehensive, multidisciplinary vision rehabilitation containing Esther's Place Model Apartment, an Assistive Technology Lab, occupational training, orientation and mobility training and more.
Envision Interface – Call Center Services specializing in inbound customer service. Our team consists of highly-skilled individuals who are blind or visually impaired.
Envision Dallas Programs – We bring the community together through Bingo, Braille Classes, Serving Our Seniors, Art and more.
Located within Envision Dallas: VisionMAX by Dr. Carolyn Carman – A low vision clinic with Comprehensive Low Vision Care, Brain-Injury (Neuro) Visual Care Advanced, Technology-Focused Care and Special Needs Vision Care.
---
We all work together to focus on the same mission:
To improve the quality of life and provide inspiration and opportunity for people who are blind or visually impaired through employment, outreach, rehabilitation, education and research.
In everything we do, we put people first.

Please contact us at info@envisionus.com for any additional questions.